Three ways the PKG Center can help you take action after #ClimateStrike
Published October 28, 2019 by PKG Center
Climate change is real, and its effects are already impacting the daily lives of every individual on Earth. We were heartened to see so many members of the MIT community and beyond come together for last week's #ClimateStrike to raise global awareness about what is arguably the most pressing intersectional issue humanity is facing today. […]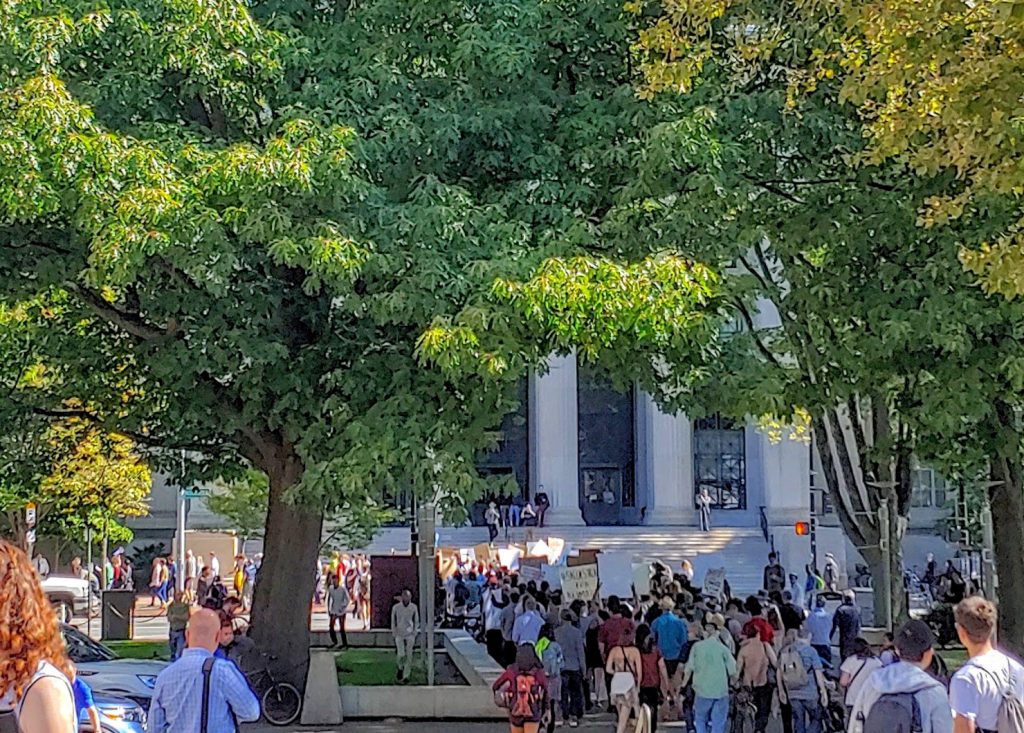 Climate change is real, and its effects are already impacting the daily lives of every individual on Earth. We were heartened to see so many members of the MIT community and beyond come together for last week's #ClimateStrike to raise global awareness about what is arguably the most pressing intersectional issue humanity is facing today.
We believe that your passion and skills will have an impact on climate change and the PKG Center wants to support your efforts. We can connect you with nonprofit and government agencies working on the front lines to address the climate issues that are shaping our present and future.
Below, we've highlighted three ways you can apply your own skills and interests to reducing or reversing the impacts of climate change:
1) PKG Fellowships:
Spend your IAP or summer engaging in immersive social and environmental change, globally or locally. Funding from PKG can support projects you develop, community-engaged research, nonprofit or public sector internships and more.
Some of our environmentally focused PKG and PKG-DUSP Fellowships from summer 2019 included:
One PKG Fellow spent the summer working with the Environmental Dispute Resolution (EDR) Program at the University of Utah, primarily supporting their Gateway and Natural Amenity Region (GNAR) Initiative. The GNAR Initiative is a research, education, and capacity building effort aimed at helping small rural towns outside of major public lands and other natural amenities plan and prepare for the growth, tourism, and development pressures they face. The Fellow assisted the EDR program in facilitating two regional collaborative planning efforts in GNARs (the Zion Regional Collaborative in Utah and the Bonner Regional Team in Idaho), as well as help to develop a toolkit that other towns can use to respond to similar pressures. They also contribute to the EDR Program's numerous other collaborative planning, capacity building, public education, and outreach activities.
The community of Dorchester, where the majority of residents of color and facing social, economic, and environmental challenges. Dorchester is currently one of Boston's most climate-vulnerable communities and the City is creating adaptation plans to address this. This PKG Fellow's project through the Climate Ready Boston initiative focused on evaluating and implementing the City's approach to climate adaptation in communities like Dorchester, and develop an agency-wide equity framework that integrates social equity with climate change resiliency.
The State of Massachusetts' Governor Baker filed "Climate Resilient Communities Initiative" legislation earlier this year to sustainably fund climate change adaptation efforts moving forward. This Fellow supported the Climate Team in developing recommendations for program design for two critical efforts that the State's Executive Office of Energy and Environmental Affairs aim to advance through this initiative: a coastal protection strategy and adaptation trust fund. Through interviews and research on case studies, these recommendations are kickstarting the State's Climate Team's thinking on how best to mobilize and utilize expanded climate adaptation resources to advance these critical priorities.
Another Fellow working with the Massachusetts's State Energy and Environmental Affairs Department as part of their Climate Action Team focused on the Municipal Vulnerability Preparedness program, which provides state funding for climate adaptation planning. Her tasks included creating tools for the program, like a map of best-practice projects and new materials for municipal officials on climate adaptation planning in Massachusetts. She also studied the program and provided recommendations for improvement to specific program elements, like the grant application process.
2) Social Impact Internships:
Explore modes of social change, apply your studies to real-world challenges, and strengthen your network and your resume through jobs and paid internships while working at a nonprofit or government agency.
Read Ben Bartschi's '22 recent blog post about his summer internship working with communities through the Conservation Law Foundation and check out open internships at mit.givepulse.com .
3) IDEAS
Bring your social innovation or venture to life with grants of up to $17,000! Create or join a team and contribute your talents. Fine-tune your idea with targeted feedback, workshops, and coaching from industry experts. Environmentally-focused IDEAS social innovation projects funded through PKG included:
Sustainable: AI provides accurate forest inventory to aid reforestation efforts;
SiPure: develops a silicon membrane technology that removes arsenic from fresh water;
InSanirator: fills the gap in the sanitation value chain by converting fecal sludge into energy and clean water; and
Get started by attending our upcoming Generator Dinner on October 3. RSVP here.
---
Tags: Civic Engagement, Climate, IDEAS, PKG Fellowships
---