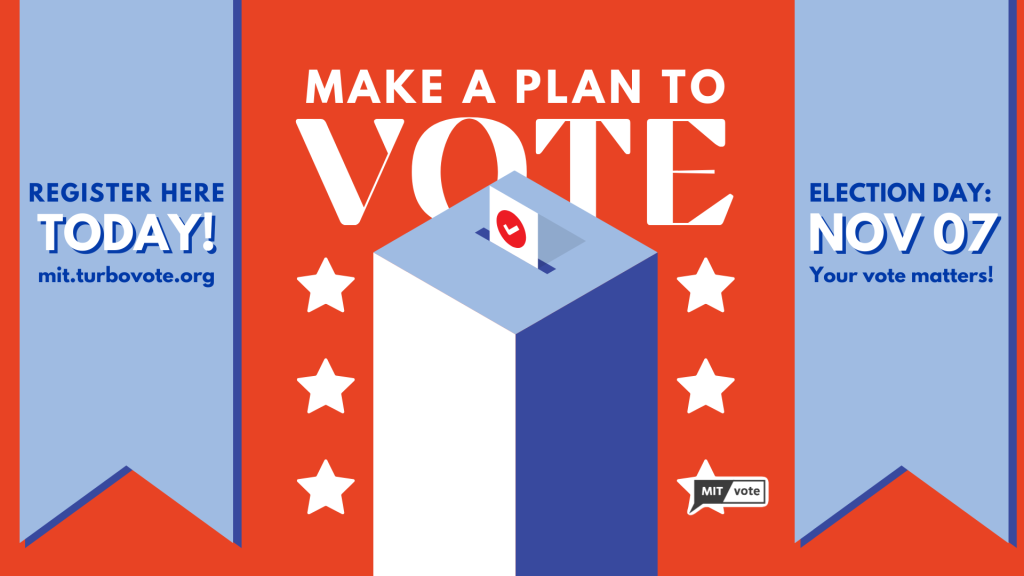 Civic Engagement – including voting and political dialogue – is a powerful form of social change. Learn more about how you can use your voice and our democracy to have a social impact!
Civic engagement and action opportunities exist all year, every year – not only during election seasons or during a presidential election. Below are a number of ways to get involved and learn more about how MIT and the PKG Center include nonpartisan civic action in our model of social change. Questions or want to learn more? Reach out to us at pkgcenter@mit.edu!
Please note that all MIT and PKG voter engagement activities are nonpartisan.
TURBOVOTE: Register to vote and more in 5 minutes or less!
The PKG Center is the home to MIT's TurboVote. Through this voting platform all members of the MIT community who are eligible to vote can:
Register to vote
Check whether you are already registered
Update your address
Request an absentee ballot
… and don't forget to share with your friends!
ALL IN Democracy Challenge
In 2020, MIT joined the ALL IN Campus Democracy Challenge, a nonpartisan initiative that "empowers colleges and universities to achieve excellence in nonpartisan student democratic engagement." Since then, the MIT ALL IN working group–consisting of students, staff, and faculty–has been meeting regularly to pursue creative ways to embed civic engagement in the life of the Institute and encourage all eligible members of the MIT community to register to vote. To learn more, contact us at pkgcenter@mit.edu.
MIT Vote
MITvote is a nonpartisan group of graduates and undergraduates whose mission is to make voting as accessible as possible to everyone and encourage civic participation on MIT's campus. MITvote has lots of volunteer opportunities for students. The PKG Center supports MITvote as the institutional home for TurboVote, consulting to support the organization's strategy and leverage institutional partnerships and other activities throughout the year. For more information, please reach out to vote-exec@mit.edu.
Voting is a vital part of civic engagement, regardless of where we are in any given election year and including state and local elections. Keep civic engagement visible by using one of our zoom backgrounds!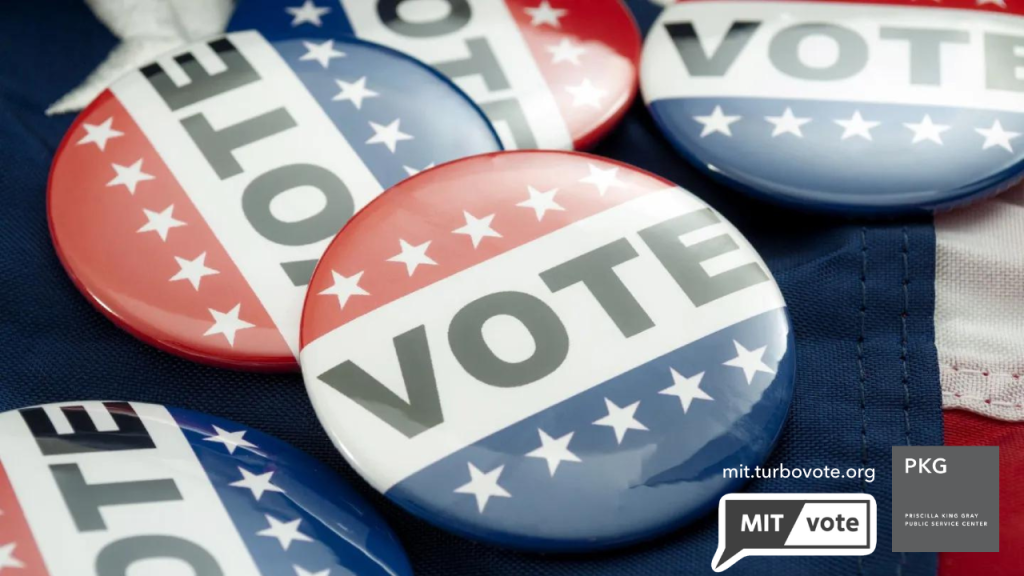 Want to do more?
Other ways to participate:
Speak with your friends and family. Make sure everyone who is eligible to vote registers and has a voting plan!
Volunteer with a local, state, or national campaign of interest
Drive people to the polls on election day
Become a poll worker
And really – voting is key! Don't forget to register at mit.turbovote.org!
Questions or want to learn more? Reach out to us at pkgcenter@mit.edu!