Fall 2021 Courses
Explores hard choices, ethical dilemmas, and the risk of failure in the humanitarian, tech, climate change, and health sectors. Students examine case studies based on challenges faced by MIT alums, faculty, staff, students or community practitioners, and engage in simulations and facilitated discussions. Exposes students to ethical frameworks and standards for social engagement and intervention. Considers the choices faced, stakeholders involved, possible impact, and relevant MIT resources. Students produce a set of guiding questions to ask of themselves and others as they embark on social change work. Subject can count toward the 9-unit discovery-focused credit limit for first-year students. Limited to 20; preference to first-year students.
Taught by: S. Bouchard, A. Hynd
No textbook information available.
Tuesdays, 2-4 pm, in 8-205
Student Testimonials:
"I always left this class thinking about how I can incorporate social change into my future. It has always been a goal of mine, but dedicating time to actually thinking and discussing it was so helpful in determining my priorities for the future. Loved the speakers, teachers, and peers!"
"This class has served as an excellent complement to my more technical GIRs. I look forward to participating in vibrant discussion and learning about global challenges, specifically how we as MIT community members can help."
"A great class to connect with other students and form a close bond with some of the kindest MIT [instructors]! The speakers are very engaging and you learn something new about the world and even yourself every class. This class really helps you take on a different outlook and the final really made me realize what topics are important to me and what I would like to look into in the future!"
We asked students to describe the class in three words and this is what they said: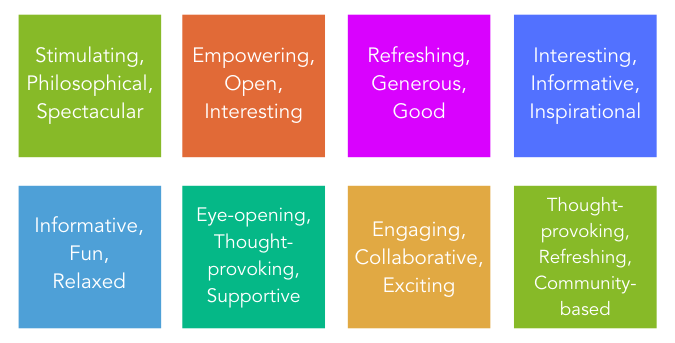 Questions? Feel free to reach out to us at pkgcenter@mit.edu, or connect with one of our friendly team members for more information!
Spring 2021 Courses
SP.256 Informed Philanthropy in Theory and Action (New)
Explores the potential and pitfalls of philanthropy as a mechanism for social change. Students assess the work of community agencies to address challenges and opportunities facing MIT's neighboring communities, with particular focus on community representation, equity, and social justice. The class culminates with students making a group decision on how the Learning by Giving Foundation (which is partnering with the class) will disperse $10,000 to local community agencies. Each session includes a presentation by a local community agency, grant-making foundation, and/or individual philanthropist. Through class discussion and supporting materials, students examine the interaction between philanthropy and social change, including the role of philanthropists past and present in shaping social change and social conservatism. Subject can count toward the 9-unit discovery-focused credit limit for first-year students.
Taught by: S. Bouchard, A. Hynd, J. Bassett
No textbook information available
Fall 2020 Courses
SP.250 Transforming Good Intentions into Good Outcomes
Explores hard choices, ethical dilemmas, and the risk of failure in the humanitarian, tech, climate change, and health sectors. Students examine case studies based on challenges faced by MIT alums, faculty, staff, students or community practitioners, and engage in simulations and facilitated discussions. Exposes students to ethical frameworks and standards for social engagement and intervention. Considers the choices faced, stakeholders involved, possible impact, and relevant MIT resources. Students produce a set of guiding questions to ask of themselves and others as they embark on social change work. Subject can count toward the 9-unit discovery-focused credit limit for first-year students. Limited to 20; preference to first-year students.
Taught By: S. Bouchard, A. Hynd
SP.251 How to Change the World: Experiences from Social Entrepreneurs (In partnership with SOLVE)
Every week, students meet a new role model who demonstrates what it means to change the world through social entrepreneurship. Students meet individual entrepreneurs, get immersed in the ecosystem that supports them, and visit MIT labs and startups in the Cambridge innovation community. Each session covers an aspect of social entrepreneurship, from identifying opportunities for change to market fit to planning for scale. Through these speakers and field trips, students gain a greater understanding of how technology-based, impactful solutions can address global challenges. Students learn to identify and address social and environmental problems and understand the relevance of this work for their time at MIT. They will see how to bring their ideas to fruition and extend their ties with the Solve community. Subject can count toward the 9-unit discovery-focused credit limit for first year-students. Limited to 25; preference to first-year students.
Taught by: A. Amouyel, H. Hanna, R. Obounou