IAP Health Reflection: Imane

Introduction

During IAP 2020, I had the privilege of volunteering with the Family Van, a mobile health clinic sponsored by Harvard Medical School. Family Van staff and volunteers work to provide educational resources and preventative health screenings for patients. These screenings include blood pressure, blood sugar, and cholesterol measurements as well as mental health and oral health assessments. The work of the Family Van is based in five different locations around Boston, MA. For my service, I volunteered with the Van at the East Boston and Upham's Corner locations, serving two shifts each week. My goals were to both develop the technical and professional skills related to conducting screenings and assessments and to create a resource map for the locations in which I volunteered.

Project Summary

In practice, my volunteer service involved welcoming patients onto the van and asking them if they would like to have their blood sugar, blood pressure, and cholesterol levels checked. On Wednesdays, I was at the East Boston location at Liberty Plaza. As patients entered the van, I brought them to a service table and asked them about their overall wellbeing, allowing me to engage them in friendly yet productive conversation. Using the Research Electronic Data Capture (REDCap) site questions, I would record information related to a patient's history of health, such as a physician's diagnosis of hypertension, diabetes, or depression.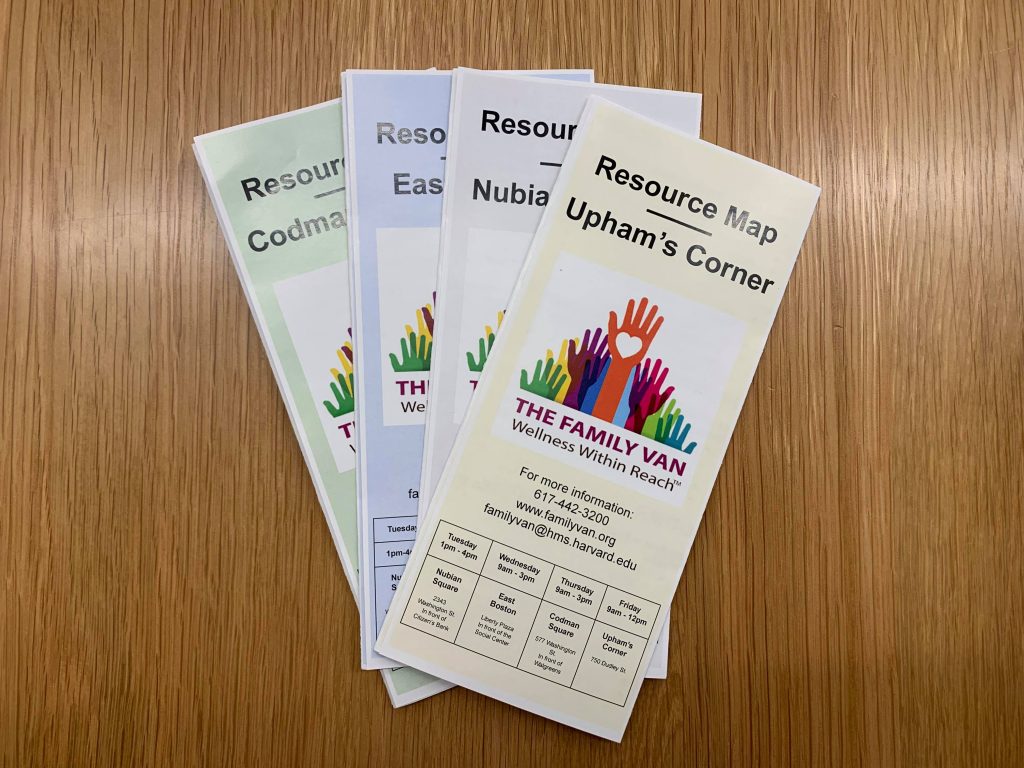 With regards to conducting screenings, I would use a glucose meter, lancet, and glucose test strip for glucose measurements, a stethoscope and a sphygmomanometer for blood pressure measurements, and a capillary plunger and cholesterol cassette for cholesterol measurements. Based on the values of each measurement, I would talk to patients about their diet and exercise habits and opportunities to improve them. Together, we would discuss how the foods they ate might be affecting their health condition—conversations where I employed motivational interviewing, a client-centered counseling style.

My interactions with patients varied in their nature, based on a patient's background and experiences. I valued speaking with patients and understanding the social contexts of their health. At times I was able to use my language skills in Arabic and Spanish to clarify information for non-English speaking patients. As I gained more experience, I was also able to refer patients to services outside the Family Van that might be helpful, such as local YMCAs and reduced-cost dental care centers.

In addition, I worked on creating a resource guide for patients and staff members for the Upham's Corner and East Boston locations. On my first shift in East Boston, my site volunteer partner and I conducted an eco-scan. We spoke with local shop owners and visited bodegas and dental care centers to understand the various resources available in the community. As an unexpected part of my service, the eco-scan activity became one of my most valuable experiences with the Family Van. I became more aware of differences in economic and social infrastructures between East Boston and cities such as Cambridge. This informed my interactions with patients, as I could not simply suggest that they exercise more if there were no local gyms or parks. Instead, I used motivational interviewing with patients to figure out alongside them if they could walk to work or to run errands. Alternatively, I referred them to local community centers or libraries with yoga classes or other fitness events. Such resources were compiled in brochures that could be distributed to patients on the van.

Community & Personal Impact

In terms of impacting the community I served, I was able to screen many patients and inform them about the meaning of their various health metrics. In cases where patients were aware of their diabetes, hypertension, or cholesterol, I was able to remind them of ways to be more mindful and in control of their health. Based on the routines that they already had in their lives, such as walking to work or eating foods low in sugar, I would applaud their efforts and support them in further improving their habits. The patients I served were appreciative of the Family Van services, volunteers, and staff members, and were receptive to having conversations with me about their health conditions and health goals.

As an individual who grew up in Greater Boston, it was valuable for me to serve my community. I have observed disparities in healthcare quality and health outcomes in Boston before, but this experience was unique in that I became a direct initiator of change as a volunteer. I have served at least 20 patients in the past month, answering questions about their health and suggesting healthy lifestyle changes. In the future, I certainly plan to recommend the Family Van services to people I meet who might benefit from health screenings.

In addition, I plan to use the skills and knowledge I gained in future interactions, including cultural competency, cultural humility, and motivational interviewing. Whether I work toward a career in healthcare or translational medicine, I plan to keep in mind accessibility to resources and the importance of equity.
---
Tags: IAP Health 2020
---