IDEAS 2020 Grantees Selected
Published April 30, 2020 by Halley Kamerkar
The 2020 IDEAS Awards took place virtually on Sunday, April 26.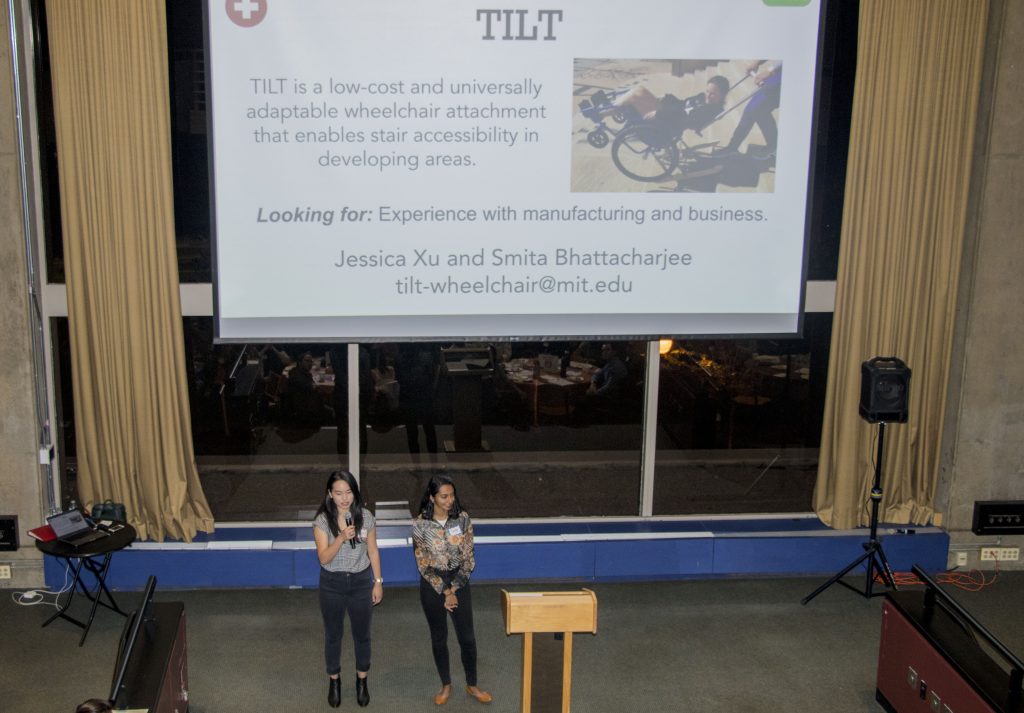 Members of the MIT community around the world gathered virtually on Sunday, April 26 to celebrate the 19th annual IDEAS Awards presented by the PKG Center for Public Service. IDEAS is MIT's social innovation challenge and has been bringing MIT students together with mentors from industry, academia, and community organizations for nearly 20 years to tackle pressing social and environmental issues through innovation. 
Due to the outbreak of COVID-19, the IDEAS Showcase (which typically takes place in-person at MIT), was virtualized this year. To share their work with the public, the 20 finalist teams posted 3-minute pitch videos in early April to an online platform hosted in partnership with SOLVE. More than 2700 individuals around the world cast votes for their favorite project and three teams received "crowd favorite" awards of $2500 each during the IDEAS Awards broadcast:
Earned Credit Project– A tool that combats U.S. income inequality by combining big data analytics with free remote tax filing to help Americans claim the Earned Income Tax Credit (EITC).
MyPath Global– A social venture dedicated to preparing and linking young women in Kenya to successful careers and entrepreneurship opportunities through upskilling and coaching.
SpeakEasy– a platform that empowers workers to build a safer, more just workplace community using the power of social media to spark collective action.
Four teams were awarded juried grants during Sunday's live IDEAS Awards broadcast to continue or launch their social innovation:
"It has been a humbling experience to participate in IDEAS," said Celi Lindiwe Khanyile-Lynch, a Sloan MBA student and Greensource team member. "It is programs like IDEAS that differentiate MIT from its peers. I am truly inspired by all the work my classmates are doing to make an impact in communities beyond MIT."
Grantees were selected by a group of 20 judges who reviewed written proposals and engaged with the teams virtually prior to the IDEAS Awards. The judging pool included MIT alumni, industry experts, and community leaders.
"We joined the IDEAS social innovation challenge because it's such an amazing opportunity for mentorship, learning from other phenomenal cohort members, and being a part of a movement at MIT for social innovation," said Smita Bhattacharjee, '22 of TILT. "We knew that through IDEAS we would have the support to make our vision a reality and for that, we are extremely grateful." 
More than 70 teams entered the IDEAS challenge in the 2019-20 cycle addressing issues across topics ranging from health to sustainability to finance. Twenty finalists were selected in early April and each of these teams received $1,000 seed grants. Thirteen of the 20 final teams were women-led. IDEAS participants work throughout the year to develop and improve their projects through mentoring and several rounds of formal feedback from industry and community experts. All IDEAS teams are led by at least one full-time MIT undergraduate or graduate student, though teams may include members outside the MIT community. 
"Beyond the numbers, the IDEAS teams are a group of kind and generous individuals who have powerful stories that can move some of you to tears," said Rebecca Obounou, the PKG Center Assistant Dean who manages IDEAS. "They exemplify what MIT means by 'Building a Better World'. I have had the great privilege of witnessing their generous acts of kindness from voting for each other's projects online, sharing resources, to immersing themselves in the COVID-19 pandemic response efforts all while fulfilling their personal, academic, and IDEAS commitments." 
Over 50% of IDEAS projects are still active today including teams like 2017 grantees BioBot Analytics and Nesterly, and 2003 grantee Design That Matters, all of which are supporting innovative efforts to combat COVID-19. 
Click here to watch the recording of the 2020 IDEAS Awards.
Click here if you would like to volunteer for IDEAS in the 2020-21 academic year.

---
Tags: IDEAS, IDEAS 2020
---