We are pleased to announce and congratulate our 2020 PKG Fellows!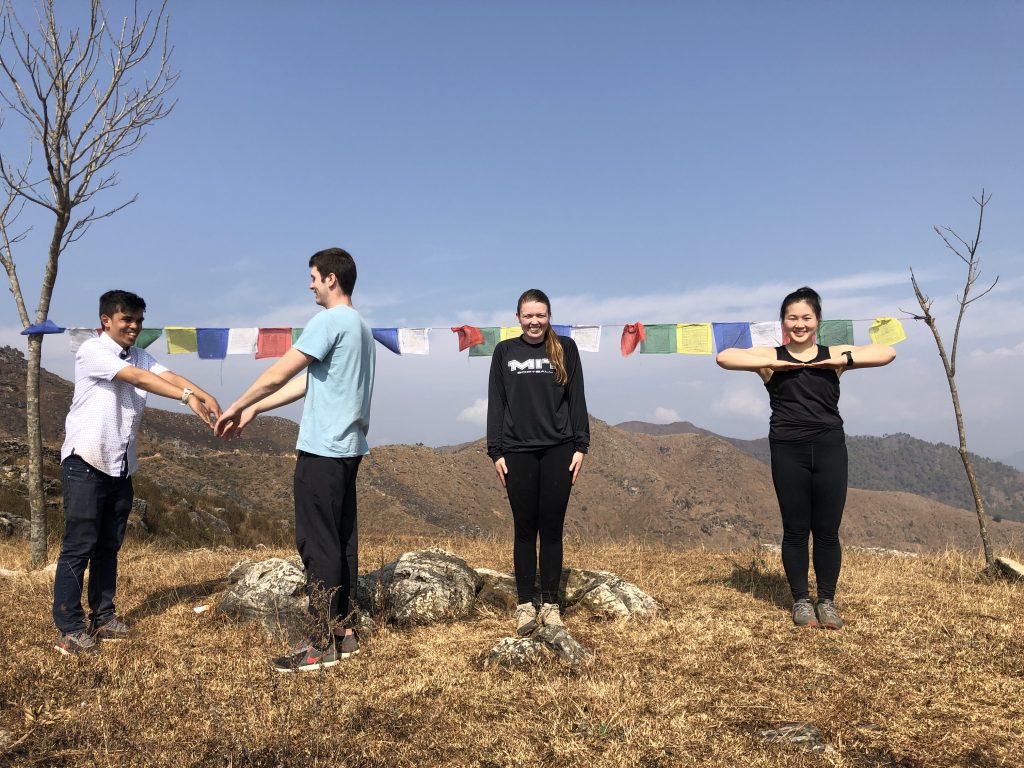 For many of us, this summer will look drastically different from the last. But we are still committed–at times, all the more so–to engaging with communities in Massachusetts and around the world. Please join us in welcoming our 2020 Summer Fellows!
—
Summer 2020 PKG Fellows
Anne Calef (Urban Studies and Planning, G '20)
Anne will be working with Boston's Metropolitan Area Planning Council in their Analytical Services team on projects to advance equitable community development through data and spatial analysis. She will focus primarily on a collaborative project with the New England Aquarium that seeks to empower students from underserved communities in Hull, Chelsea, and Lynn to identify, investigate, and address environmental risks in their cities. The project will develop an online mapping tool that students will use to access MAPC data on climate indicators, land use, demographics, and other relevant factors.
Alessandra Fabbri (Architecture, G '24)
In recent years, climate-related disasters have populated headlines at an increasing rate. In 2019, the region of New South Wales in Australia was hit by the combined effects of extreme temperature, drought, bushfires, and flooding. Alessandra will be working with the University of New South Wales to enhance public safety in the region by developing a multi-hazards framework for disaster risk reduction.
Einat Gavish (Mathematics, UG '22) and Matthew Kearney (Electrical Engineering and Computer Science & Philosophy, UG '22)
Einat and Matthew will be piloting Effective Environmentalism, a resource to help individuals identify the most impactful sustainability actions they can take given their local context. With guidance from the Citizens' Climate Lobby, they will first research the effectiveness of possible actions one can take – personally, politically, and economically. They will then create a web-application to share this information with the public and host virtual events to help get the word out and build community. Their ultimate goal is to form an online community of people from all walks of life who feel empowered to build a better future for the planet.
Ruth Gourevitch (Urban Studies and Planning, G '21)
Ruthy will be working with the Office of Boston City Councilor Lydia Edwards on several policy projects related to housing insecurity in Boston. She plans to help Councilor Edwards on her COVID-related housing insecurity response, and to contribute to a number of longer-term projects related to public housing redevelopment in Edwards' district and fair housing zoning guidelines.
Chelsea Hodgkins (Urban Studies and Planning, G '21)
Chelsea will be working as a remote research assistant with the Mexico City office of the Business and Human Rights Resource Centre. Over the summer, she will support their work to improve the outcomes for indigenous and peasant communities of renewable energy project development. Chelsea will conduct human rights trainings and clinics for communities and grassroots organizations; investigate practices of and create policy briefings on renewable energy companies operating in indigenous and peasant communities; and contribute to creating a system for tracking company specific practices and their risk to supply chains that can be used by the Centre in educating communities and advocating to legislators for stronger policies.
Mel Isidor (Urban Studies and Planning, G '21)
Mel will be working with Black Market, an Afro-centric market and community space that strives to invest in Nubian Square and the greater Roxbury community as a place where Black and Brown communities can thrive both socially and economically. She will be developing a digital archive platform for the genesis of Black Market as well as the larger Nubian Square district. Furthermore, Mel will support the organizational development of the Black Market team to help build capacity for future programming and district development.
Charlotte Matthai (Urban Studies and Planning, G '22)
Charlotte will be working with the Boston Office of Emergency Management (OEM) to facilitate planning workshops for disaster housing in Boston and its neighboring jurisdictions. This project operates at the intersection of a disaster housing initiative by Boston's OEM, which has been awarded a Regional Catastrophic Preparedness Grant Program (RCPGP) grant, and the MIT Urban Risk Lab's development of a Post-Disaster Housing Toolkit, funded by FEMA. Charlotte's work focuses on communicating the complicated information through visual techniques and strategies in a series of workshops with planners and community leaders.
Kavita Patel (Management, G '21)
Kavita will be working with the Small Enterprise Assistance Fund (SEAF), a nonprofit which supports high-impact economic development in emerging and frontier markets by investing in small enterprises who do not have access to traditional sources of capital. She will be focused on the SEAF Women's Opportunity fund for Southeast Asia, which applies SEAF's gender lens approach to make investments in women-led businesses in the Philippines, Vietnam and Indonesia. In addition to gender equality, the fund is expected to achieve key impact themes such as job creation, sustainable agribusiness, healthcare, education and environmental sustainability. Kavita will be focused on tasks such as financial and impact due diligence for prospective investments as well as impact value creation activities with existing portfolio companies.
Husain Rizvi (Urban Studies and Planning, UG '22)
The video and tabletop game industries are stagnant at best and regressive and violent at worst with regards to marginalized people. The mainstream gaming industries reflect colonialist, racist, sexist, classist, transphobic, homophobic, ableist, and religiously intolerant ideologies through their hiring processes, "gamer culture," and the games themselves. Students at The City School and I hope to subvert these narratives by investigating the following question: How, when developed by and created for marginalized communities themselves, can game design be used as a tool for social justice? Through this project, I will investigate the ways that games can advance peace, security, and the empowerment of marginalized people.
Kelly Wagman (Comparative Media Studies, G '21)
Kelly will be working with Urban Rivers, a startup non-profit in the Chicago area focused on rebuilding riverfront wildlife, to research and develop a remote-controlled trash collecting robot. Kelly will be studying the interactions between the robot, park visitors, and wildlife in order to make design recommendations as well as developing an open source version of the robot along with a guide for ethical use. Kelly is a Master's candidate in Comparative Media Studies at MIT with research interests in design, human-robot interaction, and feminist technoscience.
Shannon Wing (Computer Science, UG '22)
Shannon Wing, a sophomore studying computer science and systems engineering, will be working with Essmart, a distribution company for life-improving products based in Southern India. She will be working remotely with the Essmart team to reevaluate and update their impact metrics and then will build a software module using node and angular that will automatically update those impact metrics as products are distributed, sold, returned, and repaired. ​
Di Wu (History, Anthropology, Science, Technology, and Society, G '24)
Di will be working with Easy Inclusion (EI), a disability-focused social enterprise in China, to support their efforts in developing knowledge products and tools on inclusive employment to guide job seekers with disabilities and employers. Di will be conducting research, training, and consulting for EI, with the goal to build their long-term research capacity.
Summer 2020 ESG-PKG Fellow
Marisa Gaetz (Mathematics, UG '20)
Marisa will be working with the Suffolk County Sheriff's Department, the Boston Pre-Release Center School of Reentry, and The Educational Justice Institute at MIT on an educational tablet initiative in two Suffolk County correctional facilities. The COVID-19 pandemic has led to the cancellation of nearly all "non-essential" programs (such as educational programs) in correctional facilities nationwide, which has exposed an urgent need for digital alternatives to these programs. Marisa will be working on addressing this need by getting tablets with educational software implemented in two local correctional facilities. Throughout this process, Marisa will be gathering data to determine the efficacy of tablet programs in correctional facilities, which she hopes will help lay the foundation for the expansion of tablet programs to other correctional facilities in Suffolk County and beyond.
Summer 2020 DUSP-PKG Fellow
Eve Allen (Urban Studies and Planning, G '21)
Eve will be working with the Institute for the Environment and Development. She will be supporting the second phase of their Ecosystem Based Approaches to Climate Change project. Her research will focus on understanding the pros and cons of implementing nature based solutions to climate change at varying spatial scales.
Bahij Chancey (Urban Studies and Planning, G '21)
Bahij will join the office of New York City Council Member Carlina Rivera as a Policy Intern this summer. He will research and write policy recommendations that promote the development of affordable and senior housing, and support small business recovery in the aftermath of COVID-19. Bahij will also assist the staff with ongoing legislative and land use items while the Council Member focuses on her vital work as Chair of the Health and Hospitals Committee.
Siliva Danielak (Urban Studies and Planning, G '22)
Silvia will be working with the international non-profit organization CDA Collaborative Learning to support an incipient project on local responses to conflict and climate-induced natural hazards. With a focus on the Sahel region, she will conduct research to map the vulnerabilities, actors, and current peacebuilding and disaster risk reduction practices that allow communities to cope with the multiple hazards posed by war and climate change. This project contributes to a global process of learning and stakeholder dialogue with the ultimate goal to improve combined peacebuilding and disaster risk reduction efforts at the local, national and international level in the Sahel region and beyond.
Lizzie Yarina (Urban Studies and Planning, G '24)
Lizzie will spend the summer working with the Auckland-based community organization Te Uluniu Tuvalu Taumatua on the Tuvalu Migrant Biographies Project. Tuvalu is a low-lying atoll archipelago threatened by climate change, and there are already as many Tuvaluans living abroad as in the islands. This project digitally and physically archives the stories of Tuvaluan and other atoll-migrants to New Zealand, home to the largest proportion of the diaspora. Video interviews recorded in 2017 will be transcribed and translated from Tuvaluan to English, while the living website archive will also allow new stories to be uploaded.
---
Tags: DUSP Fellowships, ESG Fellowships, PKG Fellowships, PKG Fellowships Summer 2020
---