Social Impact Internships: Francisco Zepeda ('21)
Studying and Supporting the Many Faces of American Healthcare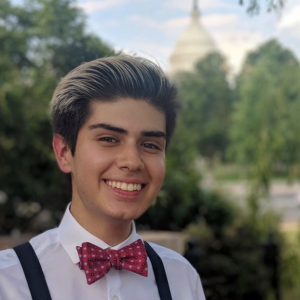 The past few months have transformed the world we live in. Many of us had daily routines and rituals that were completely upended by the COVID-19 pandemic. Suddenly, stepping outside of your home wasn't so simple anymore. Something as simple as going to the grocery store now had a calculated risk to be considered. We've had to overhaul our lives and adapt to this new normal, making sacrifices along the way to protect our friends, families, and communities. But in a time where healthcare providers and public health workers were facing overwhelming challenges, I wanted to do more.
Supporting Contact Tracing Efforts
My prior internship at the Department of Health and Human Services (HHS) inspired me to look for ways to support the public health sector. It was at HHS that I first learned that there are many faces to the American healthcare system. While healthcare often conjures images of hospitals, doctors, and nurses, our health depends on many other systems as well. There are state, local, tribal, and territorial health departments as well as nonprofits who work year-round to ensure healthcare is delivered in a manner that protects our communities and is accessible to all. I was excited to start working with the CDC Foundation, a non-profit foundation created by Congress in 1992.
With the CDC Foundation Senior Advisors Contact Tracing Strike Team, I have been working to help strategize and plan for contact tracing at the national level. I have written reports comparing and contrasting different training programs for contact tracing and the metrics being used to measure its success. We are currently working on piloting a tool I helped develop to capture models of contact tracing being used around the country. These different projects will help us as we explore and establish recommendations for the hundreds of contact tracers that are being hired by the CDC Foundation for deployment in jurisdictions across the U.S.
Putting My Coding Skills to Work
Because of the dynamic and uncertain landscape of the pandemic, my roles and tasks in the foundation have evolved over time. One need that has arisen is for visual aids to provide insights into the countless spreadsheets of data compiled by the foundation. I have been working with the Senior Advisor for Region 1 (which encompasses several states in the northeastern U.S.) to develop a dashboard to track the foundation's hiring progress in this region. As a bioengineer, my interdisciplinary background has proven indispensable in helping me design these tools. I'm looking forward to continuing to develop this dashboard and automating it so it can be useful long after I'm gone.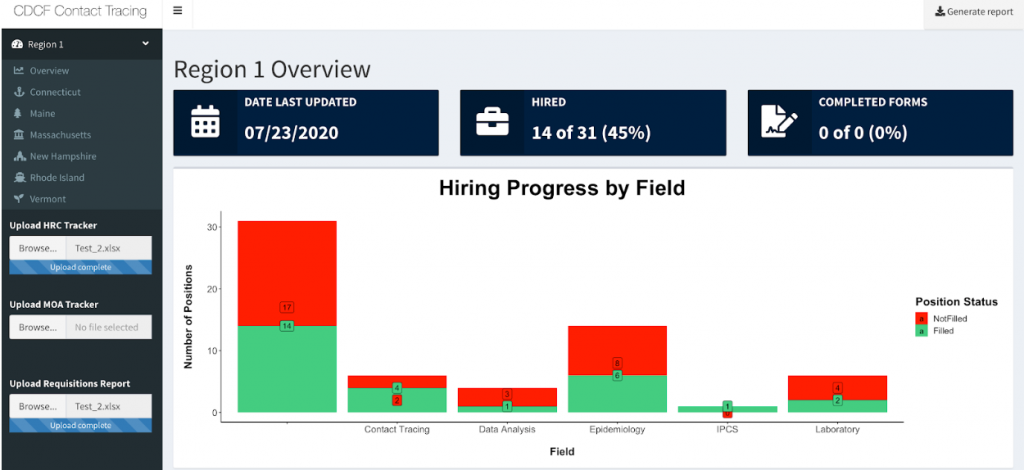 Looking To My Future in Medicine and Public Health
I feel fortunate to have worked with the CDC Foundation this summer. It's given me great insight into how public health intersects with clinical medicine to help produce the best outcomes for patients and communities. I have participated in calls concerning tribal health and major nonprofits like Resolve to Save Lives, Big Cities Health Coalition, and the National Academy for State Health Policy. During my internship, I have been applying to medical school. As a physician, I know my patients will have unique backgrounds that will inform their care and the physician-patient relationship. I am thankful that I have been able to analyze public health through a health equity lens at the CDC Foundation. The invaluable experiences and memories I've had this summer will guide me as I carve out my own future career in public health.
—
Looking to fulfill your fall Experiential Learning Opportunity (ELO)? Check out PKG Social Impact Internships page to learn more about where to find opportunities and how to apply! 
Like seeing stories like this one? Subscribe to our newsletter for the latest PKG stories and student reflections!
---
Tags: CDC Foundation, COVID Relief, Social Impact Internships
---