Social Impact Internships 2020: Jessica Knapp ('22)
Finding Meaning in a Hopeless Summer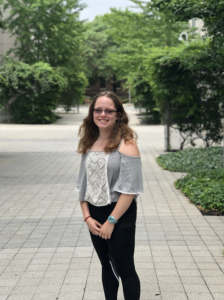 It's been so easy to feel powerless or stuck lately, as summer plans didn't pan out and there's nothing you can safely do outside your own home. Maybe you're like I was a month ago: watching protests on TV because the trains shut down and you can't get into the city. Or, looking for a UROP, but feeling daunted because all of your research skills are only helpful in a physical lab. Or, maybe you're just sitting at home trying to find something, anything, to take up the time. Learn a new language? Yeah, I'll try that.
Having nothing to do makes me itch, makes me spend hours reading or watching shows and feeling like I'm wasting my time, my talent, my tutelage. I saw a post one time that said we go to college because we still have a little "save the world" in us left over from superhero stories and childhood hopes. But how could I save the world from my living room?
Well, I couldn't save anything by just sitting on my couch. So, I started reading the internship descriptions the PKG Center sent out. I joined Handshake and clicked through job postings for hours, googled "how to write a cover letter", and asked my mom to read over way too many drafts. I was desperate to get an internship so I could have something to do, some way to help.
You can probably guess that I did get one of those internships: I am currently working as a Fundraising Intern for Miyamoto Global Disaster Relief. Miyamoto Relief works internationally and locally to aid people struggling from both natural and unnatural disasters. Traditionally, they have helped reconstruction and retrofitting schools and cultural sites post-earthquake, but have recently begun work in Ethiopia to support indigenous tribes' agriculture. As a junior in Biological Engineering, their work is completely outside of my area of expertise. I know I can't help with the engineering aspects. But I can support them.
For the past three weeks, I've learned about Miyamoto Relief's many projects, researched grantmaking foundations, developed a social media strategy, planned out virtual doodle parties, and attended more Zoom meetings than I can count. I like to know that I can use my communication skills to help people around the world.
It's hard for me to see the impact of my work on the communities right now. A spreadsheet of foundations isn't bringing water to irrigate Kara fields. A "How to Host a Doodle Party" document isn't funding any summer Art and STEM programs in LA. Instagram posts and tweets don't leave an impact on the people we're trying to help. But I know the work I do is helping them, because I am helping Miyamoto Relief, enabling them to support the Kara tribe and the Hope Street Family Center.
Who knows? Maybe you can save the world from your living room.
—
Looking to fulfill your fall Experiential Learning Opportunity (ELO)? Check out PKG Social Impact Internships page to learn more about where to find opportunities and how to apply! 
Like seeing stories like this one? Subscribe to our newsletter for the latest PKG stories and student reflections!
---
Tags: Climate Change, Social Impact Internships, Social Impact Internships Summer 2020, Water & Sanitation
---