Social Impact Internships: Gabriela Corea ('23)
Finding Motivation in the Shifting Terrain of Education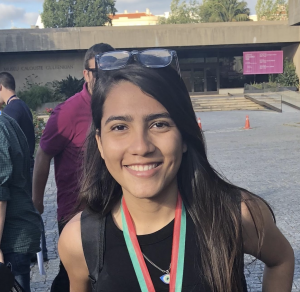 The adventures I have undertaken in my life at MIT were never similar to the ones I imagined. In March of this year, one of the most unexpected adventures began. In the midst of people with masks rushing to return home I found myself disoriented with no plan to follow or even a place to return. Juggling between the end of the semester and building a plan for my summer there was only one thing that was clear to me. I wanted to partake in a project with a positive impact that would somehow alleviate the situation we were all in.
From the brief experience I had with online education, I realized the type of limitations that students may have. It wasn't easy to be a student trying to adapt to the new study model and dealing with limitations in the living environment. Many other students not only have to deal with this, but also have physical limitations that complicate their learning experiences. One day after searching for hours between different websites for opportunities, I bumped into the PKG Center website, where the priority of all opportunities is social change. I was quickly able to connect with the NGO Ek Kadam Aur, an entity focused on education and social welfare in India. Soon after, I joined their project focused on helping students with visual impairments.
The beginning of my internship filled me with frustration and a feeling of helplessness as I began to inform myself of all the things that needed to be improved for people with visual limitations, who are currently studying. Many of these students do not even think of starting a career or having an education.
Now, I am trying to use that fact as motivation to continue contributing alongside my group at Ek Kadam Aur to improve learning conditions for all these people. By the end of the summer, the group and I are planning to finish a report with designs of technologies and methodologies to implement these as soon as possible now that the academic load rests mostly online.
In the midst of so many spontaneous changes in our education, by the environment, current health conditions, and even the laws for certain student populations, I consider that this experience has benefited me on a personal level. It has motivated me to get more involved in trying to change the community of students worldwide for the better.
—
Looking to fulfill your fall Experiential Learning Opportunity (ELO)? Check out PKG Social Impact Internships page to learn more about where to find opportunities and how to apply! 
Like seeing stories like this one? Subscribe to our newsletter for the latest PKG stories and student reflections!
---
Tags: K-12 Education, Social Impact Internships, Social Impact Internships Summer 2020, Tech for Good
---