Social Impact Internships: Jessie Hendricks (G)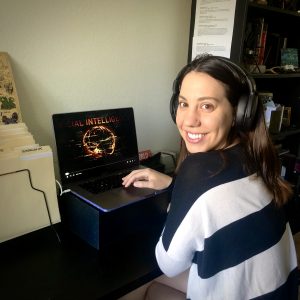 Jessie Hendricks is a Masters of Science student in the Graduate Program in Science Writing at MIT. This summer, she worked with WGBH NOVA as a full-time Broadcast Intern through the PKG Social Impact Internship program. Check out this Q&A with Jessie to learn more about her experience! And check out these clips from NOVA's Facebook and Twitter video series, featuring Jessie's work!
—
What drew you to this role with WGBH NOVA?
I was a freelance producer in Los Angeles before attending MIT's Graduate Program in Science Writing. One of my projects was a YouTube channel called Everyday Science, where I sought to create short and engaging videos related to science. Most of these were very topic-based and I felt that I wanted to produce more story-driven content. My other producing projects were with production companies with a very small number of employees, so with NOVA I gravitated not just to their storytelling, but also to the opportunity to work for a studio with a bigger infrastructure.
How has this work related back to your coursework at MIT? Has it offered any new insights to the work you've already been engaged with at MIT?
Because of the pandemic, our Spring documentary projects and classwork at MIT had to be re-envisioned, which meant a little less hands-on learning. I was lucky that I had also taken a short documentary class during Fall semester (2019) and entered the program with filmmaking experience. Engaging with film through a working production company or studio is an entirely different beast than academic coursework and an experience.
NOVA is a science-specific storytelling program, so it was a complementary addition to a science writing program. I learned skills at MIT, like comprehensive fact-checking at MIT with Undark during my Fall RAship, and NOVA helped to round out those skills with another approach to fact-checking, specific to their films.
What aspects of your internship have been particularly meaningful or exciting to you?
Watching upcoming NOVA shows, or even past shows in consideration for repackaging, was very rewarding, not to mention fun! I have definitely expanded my knowledge of ancient Egypt, the reconstruction of wildlife diversity in African parks, and the future of gene editing. Additionally, I appreciated the opportunity to engage in the conversation about diversity in media and having the direct ability to call out wording issues in narration or show descriptions. I also really appreciated being part of a community that is actively seeking to amplify underrepresented voices.
—
Want to learn even more about Jessie's work and experience? Check out her YouTube Channel, Everyday Science!

Looking to fulfill your fall Experiential Learning Opportunity (ELO)? Check out PKG Social Impact Internships page to learn more about where to find opportunities and how to apply! 
Like seeing stories like this one? Subscribe to our newsletter for the latest PKG stories and student reflections!
---
Tags: Science Writing, Social Impact Internships, Social Impact Internships Summer 2020, WGBH
---