Social Impact Internships: Bhav Jain ('23)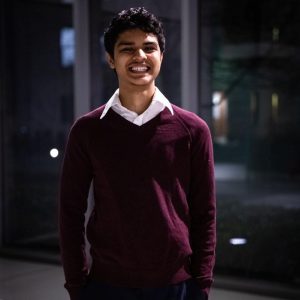 Over the past summer, I had the opportunity to intern at the Cambridge Health Alliance (CHA) through the PKG Center's social impact internship program. Due to the COVID-19 pandemic, my original summer plans to conduct research in Singapore quickly fell through, so I was naturally ecstatic upon receiving an email in June from Kathy Betts, Senior Director of the Department of Community Health Improvement at CHA, offering me a remote summer internship.
As a Community Health Intern, I was tasked with supporting CHA to adapt their community health work to the difficulties brought on by the pandemic. This included shifting the entire workflow of the Community Health Improvement team onto an online platform and hosting numerous town halls with residents in Cambridge suburbs through Zoom. In addition to these immediate needs, the internship educated me on population health cost/benefit decisions, community integration linked to patient health, community needs in relation to health equity, and Determination of Need (DoN) requirements in Massachusetts.
Reflecting back on my experiences this summer, the team accomplished significant milestones. After transitioning to the online environment, we were able to hold numerous community forums to allocate funding through the MA State DoN program to improve social determinants in the Cambridge area, host interviews regarding COVID-19 with CHA physicians and nurses in languages other than English for general broadcast, plan and conduct an evaluation plan for the Everett Community Growers, and facilitate a discussion with CHA CEO Dr. Assaad Sayah. In addition to my work at CHA, my supervisors connected me with external Cambridge-area organizations for additional volunteering opportunities – this even led me to hosting interviews with Rep. Joe Kennedy during the Democratic primary for U.S. Senate in Massachusetts and Superintendent of Everett Public Schools Priya Tahiliani before remote instruction resumes for the fall term!
In each of these experiences, I engaged with community members across the socioeconomic spectrum to understand public health needs from a patient-centered perspective- one often lacking in decision-making related to public health at a national level. As a prospective physician interested in the intersection between medicine, scientific research, and policy, my internship with CHA has highlighted the importance of better understanding unmet needs through personal interactions with community members in order to improve patient outcomes.
Looking ahead, I am fortunate to be able to continue this internship into the fall semester through PKG and the MIT Experiential Learning Opportunities (ELO) program. In the upcoming weeks, I will be conducting a research study alongside the Community Health Improvement team entitled "COVID-19 and Immigrant Health Equity" to better understand perceptions surrounding COVID-19 and barriers to care among immigrant populations in the Cambridge area. The study will involve focus group discussions with Central American Latinos and Haitians who seek care in their native languages. As with my previous experiences, I will be interacting with these community members and developing further insight on tangible effects of the pandemic. Guided by the desire to improve community health, I am excited to continue supplementing my coursework in economics and the biological sciences with this social impact internship at the Cambridge Health Alliance this fall.
—
Looking to fulfill your fall Experiential Learning Opportunity (ELO)? Check out PKG Social Impact Internships page to learn more about where to find opportunities and how to apply!
Like seeing stories like this one? Subscribe to our newsletter for the latest PKG stories and student reflections!
---
Tags: COVID Relief, Health & Medicine, Racial Justice, Social Impact Internships, Social Impact Internships Summer 2020
---