Social Impact Internships: Varsha Sandadi ('23)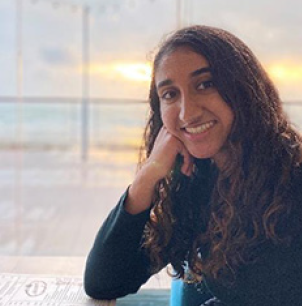 This summer, I worked as a data visualization intern for the Northeast Denver Innovation Zone, or NDIZ for short. NDIZ is an organization that works closely with several public schools in Denver, Colorado, in order to enhance and design curriculums that meet the specific needs of each school community. NDIZ focuses on providing inclusive and diverse educational experiences based on the individual needs of the student, regardless of their backgrounds. This can range from a wide variety of educational approaches, from the International Baccalaureate program to project-based learning. What sets NDIZ apart from traditional educational models is that the leadership model is localized, which allows for many decisions and policy-making processes to be streamlined. This is incredibly beneficial because it grants more time, energy, and resources for educators to directly invest in their classrooms and students.
Because NDIZ is fairly young, one of the main needs for NDIZ is a centralized and accessible student data source. NDIZ is striving to implement a greater data-driven culture, and my job for the summer would entail creating a data dashboard from scratch that would easily visualize this information for educators. I worked alongside my supervisor, Kristopher Blythe, to accomplish this goal. I pulled data from various sources, compiling and analyzing them in Excel, and then transferred them to Tableau to create the dashboard. I was really excited to use my creativity in generating visuals because this student data can tell an extremely valuable story about what disparities may exist in school.
At the same time, I also wanted to be wary of strict interpretation of the data. It's important for me to realize that behind these numbers and charts lie students' experiences and stories that simply cannot be captured by quantitative measures. That's why I looked forward to the scheduled Zoom calls with various NDIZ educators, so that I could gain a better understanding of each school's culture and fill in the gaps that are left by the data.
Especially with the civil unrest and Black Lives Matter movement going on in our country, I think it is incredibly important for us to evaluate how we can bring equity to the education system. I'm honored to be implementing a new system that will hopefully guide educators in creating policies that will provide greater opportunities to communities that have historically been at a disadvantage in the classroom.
—
Looking to fulfill your fall Experiential Learning Opportunity (ELO)? Check out PKG Social Impact Internships page to learn more about where to find opportunities and how to apply!
Like seeing stories like this one? Subscribe to our newsletter for the latest PKG stories and student reflections!
---
Tags: Anti-Racism, K-12 Education, Social Impact Internships, Social Impact Internships Summer 2020, Tech for Good
---