Social Impact Internships: Sahithi Madireddy ('23)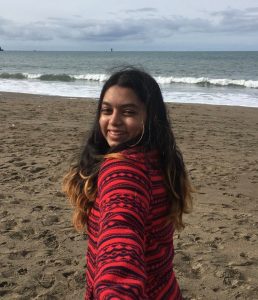 This summer, I had the opportunity to work as a Children's Mental Health Policy Analysis Intern at the Massachusetts Department of Mental Health. I already had a general sense of health inequalities in Boston in particular, so I was excited to learn more about barriers and challenges to equitable mental health care in Massachusetts.
My primary project was an analysis of racial disparities in the services DMH provides. This involved conducting a literature review of mental health disparities and identifying a dataset for information on the general Massachusetts population. I am now comparing the racial breakdown of youth served by DMH and youth in the general population. I have also supported efforts to understand how behavioral health providers have adapted to COVID-19 and to plan for activities of the Children's Behavioral Health Advisory Council, an advisory body to the state. Moreover, I have helped curate resources for a website for caregivers concerned about their children's mental health.
My work this summer gave me a chance to blend racial justice, mental health, and data analysis in a time when America's deep racism has been brought into public view. A DMH staff member I was working with shared how she was looking into systems thinking to understand the landscape of mental health in Massachusetts. In this perspective, the world is made of parts that interact with each other, and these relationships create the effects we see. Sometimes we introduce an element in the system without knowing everything else it connects to; therefore, systems can produce counterintuitive results. For example, she shared how a "no wrong door" approach in which people seeking services were never turned away has led to confusion about the right place to go.
I've been thinking about how racism is a system, too, and how it may interact with the health system. In reading about mental health disparities, I noticed some commonly mentioned prevention strategies – more diverse providers, primary care integration, more cultural engagement. While there are individual fixes, I am unsure if there is a vision of what an anti-racist mental health care system looks like. I have the sense we are only scratching the tip of the iceberg in our understanding of health equity, but my work is one small piece of bringing underlying systemic patterns to light. Particularly because the DMH is beginning conversations on integrating race and equity into their work, I have the opportunity to impact DMH's operations going forward. I can influence change on an organizational level, even if we are far from the ideal of an equitable health system.
This internship has also been a learning experience in my knowledge of how government works. I got to see how much work goes into the actual execution of policy, which is something I had not considered. I learned about the organization about mental health care and insurance in Massachusetts. Moreover, I've also picked up skills of effective communication in a virtual setting, finding and synthesizing information, and thinking about nuances in data. Certainly, I've also improved my data analysis skills, and it is very rewarding to know I have the ability to apply technical skills towards health equity.
—
Looking to fulfill your fall Experiential Learning Opportunity (ELO)? Check out PKG Social Impact Internships page to learn more about where to find opportunities and how to apply!
Like seeing stories like this one? Subscribe to our newsletter for the latest PKG stories and student reflections!
---
Tags: Anti-Racism, COVID Relief, Health, Social Impact Internships, Social Impact Internships Summer 2020
---