Priscilla King Gray Graduate Student Award: Marisa Gaetz (G)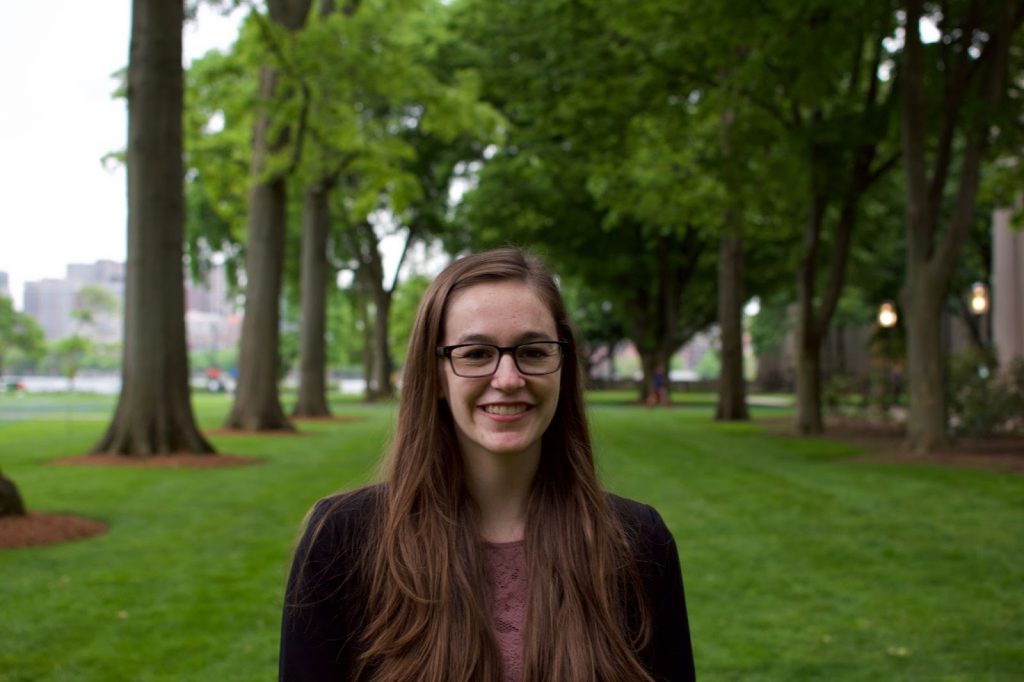 Congratulations to Marisa Gaetz, the 2021 recipient of the graduate student Priscilla King Gray Award for Public Service!
Honoring Priscilla King Gray's contributions to public service at MIT, the award recognizes graduate and undergraduate students who are exceptionally dedicated to community engagement and making positive social and environmental changes at MIT and beyond. To learn more about the award and the nomination process, click here.
We spoke to Marisa about her work with The Educational Justice Institute at MIT (TEJI), which started as an undergraduate at MIT and has continued throughout her graduate studies. Marisa's commitment to criminal justice reform and prison education was a central theme in her nominations.
"Marisa has been a mainstay of our organization, and, although she is a volunteer, we consider her part of our core staff and include her in all staff meetings. Her dedication to and care for the population we serve, the most despised people in our country, demonstrates great compassion, but more, her unshakeable reliability makes that compassion effective."

Lee Perlman, TEJI Co-Director
What initially drew you to working with TEJI?
My passion for prison education began during my freshman fall semester at MIT (Fall 2016), when I took Philosophy of Love with Professor Lee Perlman. During this same semester, Lee was also teaching a similar course at a men's prison near Boston, and he invited some of his MIT students to sit in on this prison course for a day. I hadn't thought much about incarceration before, but I was a freshman eager to take advantage of all the opportunities that came my way, so I decided to go.
Immediately upon entering the classroom at this prison, my perception of incarcerated people began to change. Some of the incarcerated men greeted us excitedly and started to offer up and move chairs so we would have places to sit; others were already deep in conversation about what we had read for class that day.
After a brief lecture, I sat with a small group of incarcerated men, and we discussed philosophy, incarceration, and the relationship between the two. I was blown away by how eloquently and insightfully they spoke about the reading, as well as by how engaged they were in the course. But what stuck with me most is how they described the impact education has had on their lives while incarcerated. They talked about how motivating and humanizing it was to have a teacher come in week after week and just believe in them. One man went so far as to say that prior to his experiences with education in prison, he had never felt like anyone had ever believed in him before.
From this experience, I started to realize how meaningful education can be for incarcerated people. I was so moved by this experience that I signed up to be a TA for a physics course that spring at the same prison. I also started to discuss with Lee the possibility of getting MIT more involved in improving and expanding educational opportunities available to incarcerated people; Lee had already been teaching in correctional facilities for a long time, but his efforts at this point were largely individual.
Later in 2017, Lee founded The Educational Justice Institute (TEJI) at MIT, which has the goal of using education and technology to create sustainable solutions to mass incarceration, social injustice, and barriers to reentry. Since its inception I've worked on a variety of projects with TEJI: I've been a teaching assistant for Lee's "inside-out" classes Nonviolence as a Way of Life and Philosophy of Love, which bring together MIT students and incarcerated students; I've organized an ethics program for TEJI's week of the Summer of HOPE program for system-involved young people in Boston; most recently, I've been leading TEJI's Computer Education Committee – a team of MIT and Harvard students dedicated to providing quality technical education to incarcerated people.
What kept you involved with TEJI?
Each of the experiences I've had working with TEJI has reaffirmed my belief in the transformative power of education. Seeing students learn, grow, and redirect their lives is the primary reason I've continued to work with TEJI. In addition to my passionate support for TEJI's mission, another factor that has kept me involved with TEJI is our amazing team. Lee Perlman (Founder & Co-Director), Carole Cafferty (Co-Director), and Dave Halbert (Outreach Manager) have been incredible mentors and supporters for me throughout my time at MIT. And more recently, I've had the privilege of working with other amazing graduate students who share my passion for this work through TEJI's Computer Education Committee.
You founded the MIT Prison Education Initiative as an undergraduate. Can you share a bit about that group and how it has evolved throughout your time at MIT?
I helped start the MIT Prison Education Initiative around the same time that TEJI was forming (in 2017). At this time, a small group of undergraduates (including myself and Charlotte Minsky) were really passionate about TEJI's mission, but there wasn't an obvious way for us to contribute substantially to TEJI's work directly beyond being tutors and TAs. Charlotte had the idea of creating a student group, separate from TEJI, that would help educate the MIT community about issues relating to mass incarceration, and in doing so, would help create more student engagement with TEJI's courses and programs. This is how the MIT Prison Education Initiative was born. Since our inception, we've hosted faculty talks, documentary screenings, group discussions, talks by formerly incarcerated people, and more.
What aspects of your work with TEJI or the PKG Center might you carry forward with you after MIT?
I believe that prison education and criminal justice reform will be life-long projects for me. I plan to go into academia, and I hope to continue teaching and organizing programs for incarcerated people in addition to my academic research.
"Throughout all of Marisa's work with system-involved populations, she has demonstrated a maturity and poise that belies her youth. Marisa is a gifted teacher, a strong advocate, a committed community builder, and an analytical thinker, skills that she has focused to positively transform the lives of many people involved in the correctional system."

Graham Ramsay, ESG Associate Director & Bettina McGimsey, ESG Outreach & Communications Director
If you missed the 2021 Awards convocation you can watch the recording here!
---
Tags: Award, PKG Award, PKG Award 2021
---