PKG Social Impact Internships: Andrew Emmel ('24)
Hi there! My name is Andrew Emmel, I am a rising Sophomore, majoring in Biological Engineering, from southern Oregon. Over the course of this summer, I've been wondering how do non-profit organizations go about actually creating effective change in their communities by addressing pressing issues.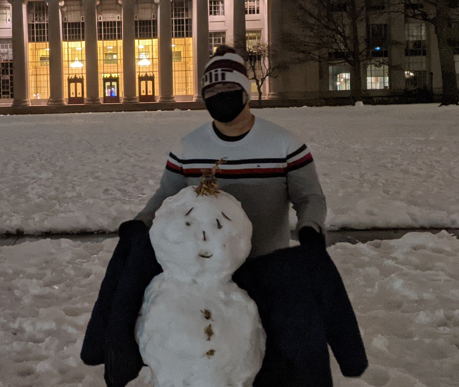 Fortunately, thanks to the PKG Center, I've been given the opportunity to intern at the Ek Kadam Aur Foundation (EKAF), which stands for "One Step Forward" in Hindi. This non-profit organization seeks to fill in the gaps of rural education in India, and in doing so, empower underprivileged children and families through education. They provide a vast array of programs and services in order to achieve this goal. Such programs include "Train the Trainers," wherein local high-school/college graduates (trainers) go to schools and teach (or rather, train) the students on foundational topics in order to reinforce their comprehension. Of course with the pandemic, there were also significant gaps in education there as well. EKAF was able to assist by providing the necessary technology and software that students needed in order to learn remotely. Most notably, they provided technology that was specialized to assist students with visual impairments to those who needed it. In pursuit of assisting blind students more effectively, they've begun adapting one of their current programs, Train the Trainers, in order to better serve this community in need. This adaptation of the Train the Trainers program was the main focus of my internship.
Reaching out to these students in particular is especially important since a fairly significant proportion (32% according to the 2011 Census of India) are not attending school, with some of them having never attended school. This is a problem that will only perpetuate itself since (1) these children are often "cooped" up in their homes and hidden away due to stigmas and fear for their safety, (2) if they do go to school, they will fall far behind their peers, and (3) without an adequate education, they will most likely not succeed in life due to not learning necessary life skills to survive with their condition and the fundamental concepts they would have otherwise received, with a high possibility of ending up in further poverty because of this. In order to tackle this problem, we looked at developing 3 key adaptations to develop into the Train the Trainers program: Outreach, Enrichment, and Support. The first part of our answer, Outreach, is how does EKAF reach out to children and provide them an education. This necessitates contacting parents and talking to (or convincing if needed) them why their blind kid(s) needs an education and discussing how are we going to achieve it. This means placing their children in our program to get them caught up on the education they've been missing out on. With the children now attending our program, the next question is what do we teach. Our recruited trainers, who will receive training on how to more effectively teach blind students, will cover fundamental topics, like Braille, Mathematics, and Hindi/Bengali, as well as skills specific to them, such as how to safely navigate their surroundings and other needed life skills. With this enrichment, children who attend our program will catch up to their peers who are currently in school and will be able to keep pace as they attend their local public school in the future. While students are attending this program or regular school after they've graduated from this program, they'll receive the support they need to succeed, both in school and out of it. This includes medical support, where we connect them with or provide the aid they need, especially if their condition is treatable/reversible. Through programs already in place at EKAF, we'll provide them the technology they need to succeed as well as scholarships to cover the cost of their education.
Through this new program, we'll be serving children who need it most and bringing up to speed on the education they deserve to live a life they deserve to live. More importantly, despite working remotely, completely outside of the borders of India, I know that I'll be changing individual lives if this program succeeds and making an impact.
---
Interested in doing a Social Impact Internship? Click here to learn more about our IAP opportunities!
---
Tags: K-12 Education, Social Impact Internships, Social Impact Internships Summer 2021
---