PKG Social Impact Internships: Tamea Cobb ('24)
Hi, my name is Tamea Cobb and I'm a rising sophomore from Maryland studying Chemical Engineering. This past summer I worked for Msaada Partners, a consulting group, as a part of the Tech for Good Entrepreneurship Summer Internship program. I worked to support some of the cohort alumni of the Majira Project, which aims to create wealth and more sustainable communities by enabling growth for small businesses and startups led by founders of color or serving underserved communities.
During the summer, I helped a company named Forefront conduct a racial equity audit on a popular startup accelerator in the Boston area. As part of my work with the audit, I listened and transcribed many focus groups and conversations with entrepreneurs of color. It was very disheartening but unsurprising to hear about their negative experiences navigating an industry dominated by white men. I learned a lot about how systems and structures need to be dismantled and completely restructured with the specific intention of being racially equitable in order to attempt to undo the disparities we see on an everyday basis.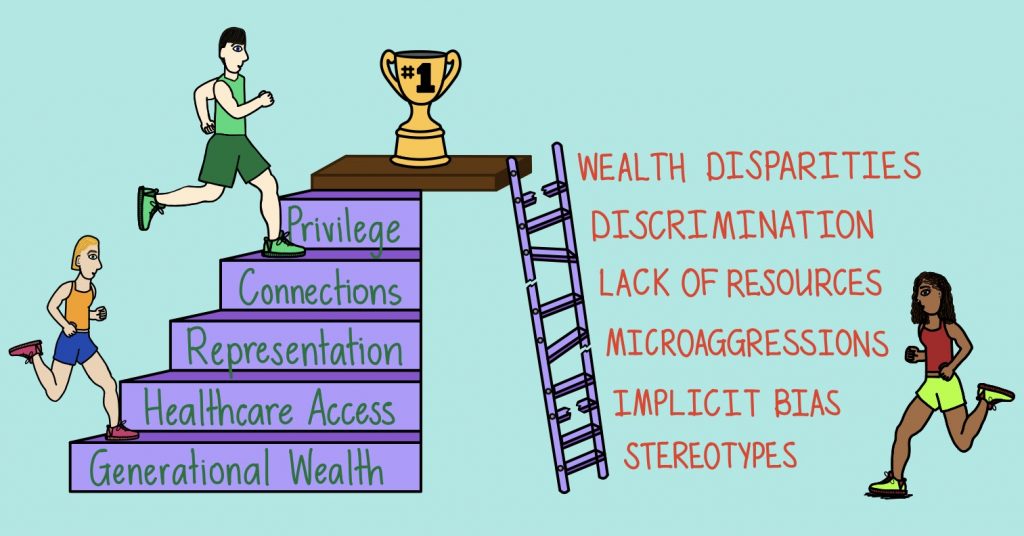 My creation represents the different ways that white people benefit in society while racial minorities are automatically at a disadvantage in many different aspects of their life (education, healthcare, financial literacy, etc.). I decided to draw an image to represent my reflection because I was inspired by a video that we used during conversations for the racial equity audit (https://youtu.be/eBb5TgOXgNY).
---
Interested in a Social Impact Internship? Click here to learn more about out IAP opportunities!
---
Tags: Anti-Racism, Racial Justice, Social Impact Internships, Social Impact Internships Summer 2021
---