PKG Spring Break Alum Tanner Bonner ('22) featured in MIT News!
Tanner Bonner participated in the PKG Spring Break program in 2019, where he learned about and collaborated with local organizations dedicated to fighting climate change. Read below to learn about the many ways Tanner has integrated social impact work into everything he does!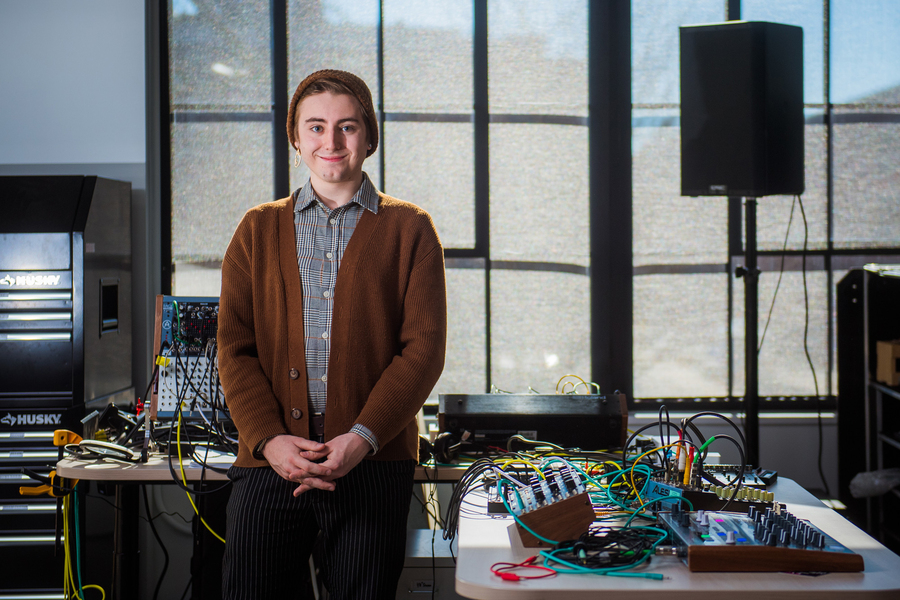 In February 2018, standing in front of local press and his high school's leaders, student council president Tanner Bonner argued his case for a school walkout in response to the recent Parkland shooting. On behalf of his fellow students, Bonner wanted to organize a day dedicated to speaking about gun violence and mental health. The school was initially resistant, but after multiple meetings with school administrators, he managed to organize and facilitate the event. The experience made him realize the importance of speaking up to create change.
"If you really see something and you have an idea of how you can put it together, you should go for it. We should encourage students to lift their voices when talking about issues that affect them," he says.
Growing up in Dearborn Heights, Michigan, Bonner deeply valued his support systems, including his family and his high school English teachers. He was involved in numerous community programs, including band, theater, and student council.
Now a senior at MIT studying urban science and planning with computer science, Bonner is constantly looking for ways to build up the communities around him, working to provide equitable opportunities for all.
"I love to think about systems and society, and how we work together and make the best use of what we have, to ensure what we have is given equitably," he says.
Bonner's interest in urban science and planning stems from his love of math, specifically looking at how specific datasets apply to real-world issues. During his studies he has realized the importance of making data accessible for different audiences, and discovered the power of framing data to control a story line, especially in the context of health care accessibility. He aims to explore this idea further in his senior thesis.
"A headline doesn't tell an entire story, nor does any single graph," he says. "Different presentations of the same data alter our perception. The ideas that are drawn from such presentations can have substantial implications, and thus data must be carefully handled — especially data pertaining to people."
In the spring of his first year at MIT, Bonner undertook a research project in the Research Laboratory of Electronics, where he was trained to label various speech cues, such as articulating vowels and consonants, using Praat software. The goal of the project was to enhance speech-recognition algorithms from speech signals gathered into a large data set. The experience, Bonner's first hands-on research opportunity, allowed him to learn specifics of computer algorithms while also producing new data.
At the same time, Bonner was selected to attend 1vyG, the largest conference in the world for first-generation, low-income students. He describes the experience as not only eye-opening, but also validating, in that he found a community of people who shared similar experiences growing up low-income. "They could see me, and I could see them," he says.
Upon returning from the conference, Bonner immediately began working with what was then called the First Generation Program at MIT. He started asking himself questions like, "What could other students benefit from that would have helped me as a first-year?" While he planned FLIPOP, a preorientation program for incoming students, he was also working with Class Awareness Support and Equality (CASE), a group on campus advocating on behalf of low-income students, and with the QuestBridge scholarship program.
Quickly, Bonner realized the overlap between these three groups, seeing that they could work together holistically to benefit first-generation and/or low-income students. With this in mind, he began reaching out to board members from each group in an attempt to plan joint events.
Continue reading the rest of this story on MIT News by clicking here.
---
Tags: PKG Alumni
---