IDEAS Alum: The Practical Education Network featured in MIT News!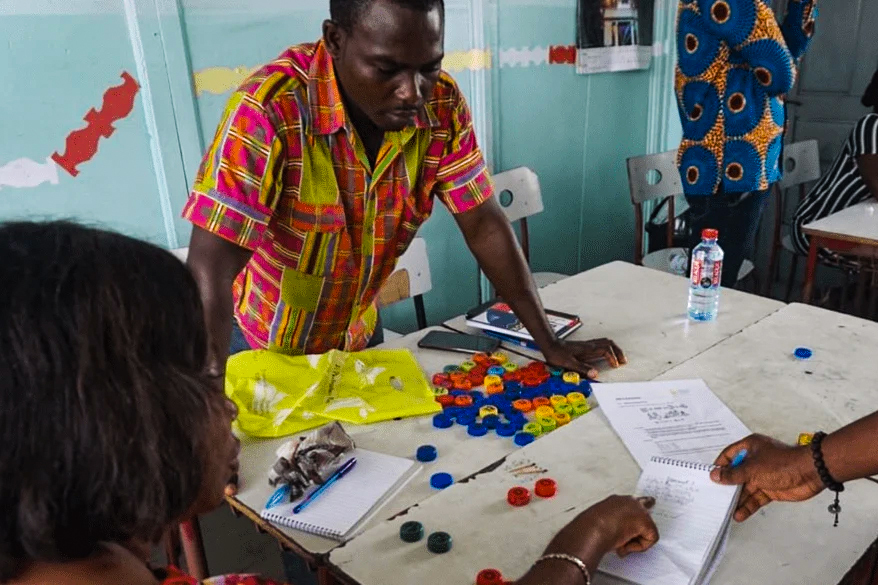 In the summer of 2011, MIT PhD student Heather Beem travelled to a rural region of Ghana to try engaging students from low-resource schools in hands-on learning projects. She began by asking a group of high school students what they wanted to work on.
"They said, 'Anything, whatever you want,'" Beem recalls.
Hoping to narrow things down a bit, she asked what kinds of materials they had to work with.
"As soon as I mentioned materials, the atmosphere in the room changed," Beem says. "Because the students felt sort of ashamed to not have anything they felt they could bring to the table."
Eventually, a boy came forward with a plastic bucket. Ignoring the laughter of his peers, he asked if it could be useful for anything. To the students' surprise, the answer was yes.
Beem led the students through the process of cutting the bucket in half, attaching the pieces to a vertical axis so that they spun in the wind, and using magnets and wires taken from scraps to harvest energy from the motion. Within a few days, the bucket was the centerpiece of a small wind turbine that could generate electricity.
The project gave the students a newfound confidence.
"It showed that just a little bit of exposure to hands-on learning can have a really deep impact on the way students see themselves and what they believe they are capable of," Beem says. "They realized, 'I made something. If I don't have electricity, I can find a way of generating it. I have the ability to create the solutions I need in my life.'"
The experience set Beem, who earned her doctorate in 2015, on a mission to share the power of hands-on learning with ever-larger groups of children. Those efforts culminated in the Practical Education Network (PEN), an organization that helps teachers develop hands-on projects for students using low-cost and readily available materials.
Since PEN's founding, more than 3,500 Ghanaian teachers have gone through the organization's training workshops. Beem estimates those teachers have brought PEN's hands-on methodology to around 600,000 students across the country.
Finding inspiration
When Beem came to the Institute in 2008 to pursue her PhD, she noticed something special about MIT's community.
"Everyone had this confidence that we could solve any problem," Beem says. "It was just a matter of having the framework, knowing how to prototype, and getting your idea out there. I began asking myself what it would take for students in other parts of the world to have that experience in their education as well."
Beem realized that part of MIT students' confidence came from the Institute's hands-on ethos, exemplified by MIT's motto "mens et manus" ("mind and hand" in Latin).
"I found myself wondering if we could cultivate that same MIT spirit in parts of the world where it seems really difficult to do hands-on learning," Beem says.
To answer that question, Beem partnered with a few other MIT students and applied for the IDEAS Social Innovation Challenge program, in which she would win the seed funding to make that first fateful trip to Ghana.
When Beem returned to MIT, she couldn't stop thinking about the change she witnessed in those high school students. Over the next two years, she regularly made phone calls to people in Ghana to further refine her ideas.
"I was trying to figure out what it would take to make that kind of experience happen on a regular basis and at a large scale for students everywhere," Beem says.
The efforts led her to MIT D-Lab, where she would partner with founding director Amy Smith, other students, and alumni to found EC.717 / EC.787 (D-Lab: Education and Learning). To this day, the course teaches MIT students how to develop education-based solutions for underserved people around the world.
"I'm super grateful to MIT for inspiring this line of work by helping me experience both the hands-on ethos and also the entrepreneurial ecosystem, which helped me be bold enough to go out and start something in the world," Beem says.
Beem founded the Practical Education Network in 2014 while still pursuing her PhD, but she didn't move to Ghana until 2016 when she was ready to commit herself to PEN full time.
Today PEN's training workshops focus on showing teachers what's possible by exposing them to hands-on activities that require only locally available materials. Each activity comes with a list of questions teachers can ask to inspire inquiry from students as they go through experiments. The teachers also learn how to put students into project groups, organize materials, stimulate questions, and more.
Click here to read the full article on MIT News.
---
Tags: Education, IDEAS, IDEAS Alumni Profiles, K-12 Education, PKG Alumni
---