Social Impact Internships: Kaleigh Spears ('25)
Hello! My name is Kaleigh Spears and I'm a rising sophomore from Alabama studying Urban Science and Planning with Computer Science (course 11-6). I'm interested in urban sustainability, international development, and empowering communities to combat climate change. This summer I interned with Communities Responding to Extreme Weather (CREW), a Boston nonprofit organization that works with communities to help them prepare for extreme weather through education, research, and direct service. We aimed toward social connectedness and worked particularly in environmental justice communities.
It's going to take all of us to combat climate change, and thanks to the Priscilla King Gray (PKG) Public Service Center, I got the opportunity to take my first steps in contributing to the fight.
I gained valuable perspectives and insight as a remote intern. The work that CREW does is applicable to anywhere around the world, particularly this past summer as communities around the globe anxiously watched weather reports from their humid homes in hopes that heat waves wouldn't escalate.
Living in Alabama, I have first-hand experience with extreme weather. My community was hit directly by category three Hurricane Sally in 2020, leaving many people forced to trade electricity and internet connection for trees on their houses. It was the midst of the pandemic and all of my classes were completely online, so it was difficult at first to find a way to keep up with school. It was no longer an easy drive to the library and wi-fi was down in most places. Things like this are challenging to prepare for and it's impossible to consider every scenario when extreme weather strikes. Many people don't know where to look for help or aren't aware that help even exists for things like this.
Working with CREW granted me a new perspective and insight into how extreme weather impacts communities and how I can help. I learned a lot more about environmental justice and in what ways extreme weather impacts marginalized communities differently than more resourced communities. Climate change may be a global issue, though it is also a greatly individualized struggle: impacts vary greatly depending on where people live and their family situation. CREW worked mainly within environmental justice communities in Greater Boston. We planned events, held workshops, and distributed eco-friendly air conditioners via raffles. We also compiled and distributed cooling kits and raised awareness of both the dangers of extreme heat and of Boston's various climate-related resources. It was our hope to unify the communities we were working in because we believe, and I have learned from Hurricane Sally, that it takes a community to have resilience in dangerous weather.
What I was working on was so current. Day-to-day current. Weather was constantly changing across the nation as states broke temperature records and heat waves ravaged communities. Because of this, I learned how NGOs and other organizations working on climate resilience adapt to such rapid change. Halfway through the summer, the Supreme Court struck down EPA climate regulations and this put burdens on organizations like CREW to work harder to secure the safety of communities. It was important we included community members in these discussions, no matter how small or large they were. Climate change affects the everyday person, so direct community involvement is crucial in the success of our work.
A great percentage of my generation struggles with climate anxiety because it feels the future of the planet falls on our shoulders. However, everyone I collaborated with within my internship was very courageous and passionate about the fight against climate change, and this gave me a new wave of hope for the future. I felt reinvigorated by the eagerness of the communities in which we worked to participate in the efforts and conversations. People were excited to get educated and get involved, which was quite moving.
I am very grateful to CREW and to the PKG center for giving me this opportunity, and I can hardly wait to continue empowering those around me to fight for what they believe in. Although climate change is extremely daunting and introduces a lot of strain on all of us, I am optimistic for the future and eager to learn more.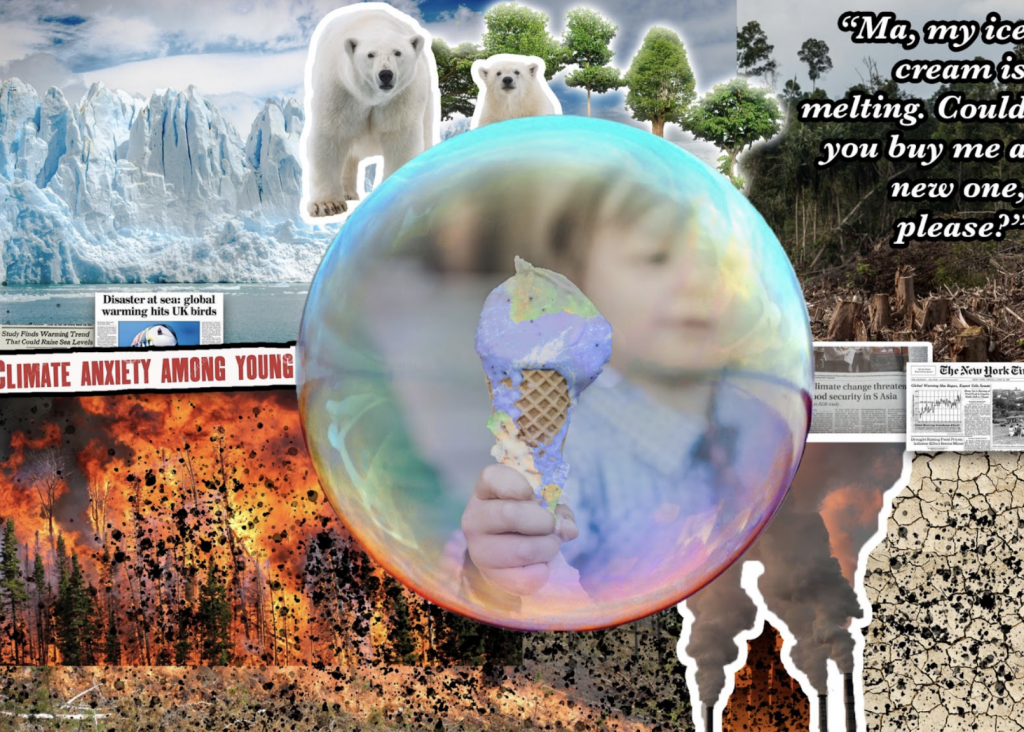 I created a photoshopped collage to represent the multiple facets and impacts of climate change. I decided this would be a nice way to incorporate real examples and stories. I added various news articles to represent the numerous impacts of climate change and photos to supply a visual of what is happening around the globe. In the center sits a boy protected by a bubble from the world outside. The boy is holding an ice cream cone which represents the melting planet, and he is asking his mother if she could buy him a new one.
The boy symbolizes my generation and the idea that the climate crisis falls upon our shoulders. It is important that we educate ourselves and understand that we can't rely on others to solve this problem – we cannot simply purchase a new earth. The bubble symbolizes two things. First, it represents the willful ignorance or denial of many people who shield their gaze from the physical and mental impacts of climate change happening all around them. They live in a protected world and choose not to accept the horrible state of the planet. However, it also symbolizes the work that must be done to protect vulnerable communities from the changing climate and increasing heat. Believe it or not, these two things ultimately go hand in hand. While it is crucial that organizations like CREW help protect these communities, it is also important that we help educate them on the devastating impacts of climate change. We included people in conversations and worked to empower them to join the fight.
Finally, it is important to remember that there is still hope. The line of trees in the image represents the glimmers of hope that remain in the world. It is this hope that keeps us working and believing in change, and we must hold onto it.
---
Tags: Climate, Social Impact Internships, Social Impact Internships Summer 2022
---