Social Impact Internships: Emmi Mills ('24)
Hi! My name is Emmi Mills, and I am a rising junior studying Brain and Cognitive Sciences (Course 9) here at MIT. This summer, I interned at the Ek Kadam Aur Foundation for Education and Health as a Corporate Social Responsibility Intern, along with fellow students Sheng Huang, Keaten Clarnon, and Samir Khan. My internship with the Foundation has absolutely flown by at record speed. Within three months, I have learned countless new skills, collaborated with people across the globe, and helped my team in expanding opportunities for children through sustainable business initiatives and corporate partnerships. This summer has only reinforced my desire to work in social impact spheres in the future, and I am so lucky to have had this opportunity through the PKG Center at MIT.
The Ek Kadam Aur Foundation's name translates to "One step forward", reflecting its mission to uplift underserved and marginalized children in India through accessible education and quality healthcare programs. They believe every child deserves the resources and tools to become a leader in their community, no matter their background or perceived barriers. As a volunteer tutor in highschool and an educator for the Global Health Alliance at MIT, I completely believe in the power of education as well. It not only provides future opportunities that can improve the quality of a child's life, but also instills confidence and self-efficacy in them – a quality that will take them even farther.
While the Foundation has many different programs dedicated to children ranging from elementary to highschool age, my fellow interns and I have primarily assisted their most recent initiative, the Train the Trainers for the Blind program. The program is revolutionary, ambitious, and nothing short of transformative. It was inspired by two young blind girls, Ananya and Kusum, from a poor farming family in a rural village within the Uttar Pradesh State. Due to economic, psychological, and societal restraints, they spent most of the life hidden at home without any formal schooling. Ananya and Kusum's story has inspired the Ek Kadam Aur Foundation to launch a national educational program to help thousands of underserved blind children just like them. The program locates elementary-school age blind children living in underserved communities in India, and tutors them in foundational academic skills to prepare them for formal education within a year. To do this, each blind child enrolled in the program is paired with a "Trainer"- a local highschool student or graduate rigorously trained by the Foundation in Special Education – who works with them in daily, one-on-one lessons while providing them with community, love, and support.
This program is an incredible story of civic responsibility, youth empowerment, and local leadership joining forces to move mountains. In fact, merely knowing that the project will continue to expand and impact more lives fills my heart with joy. When I see a photo of a child's cheeky smile in the arms of a student trainer, it gives me hope in our worlds' capacity for empathy and our willingness to fight for those less privileged than ourselves. In fact, I have attached a heart-warming poster of Ananya, one of the original students of the program, so that everyone can see her smile.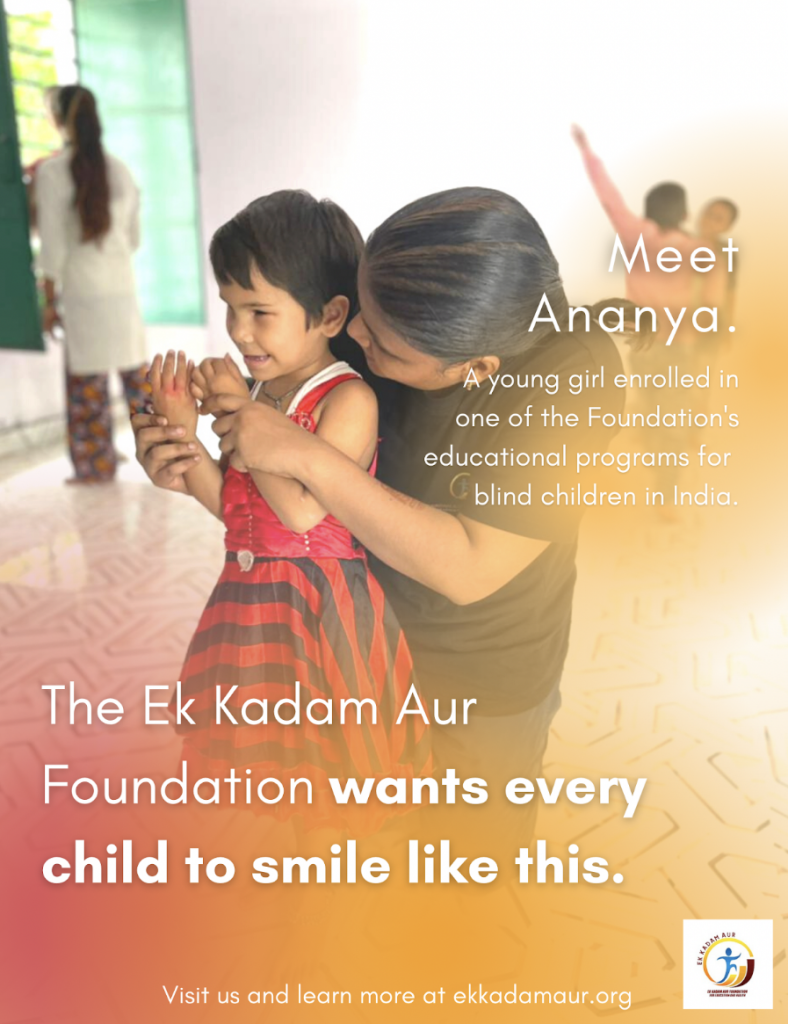 Throughout the internship, I created and distributed materials similar to this poster to aid in expanding the Foundation's visibility and fundraising capacity. In total, I have designed two videos, a powerpoint pitch presentation, a brochure, and an instagram story to accompany Keaten Clarno's fundraising efforts. Notably, I ensured everything I designed for the Foundation never lost the overarching message of humanity, dignity, and love for the children.
Ultimately, it has been such an honor to work with the Ek Kadam Aur Foundation- so much so that I'm sure it will not be my last time with them. I deeply thank my co-interns Keaten Clarno, Samir Khan, and Sheng Huang for their amazing work and collaboration. I also want to thank Muskan Madhok, my incredible supervisor, and Dr. Satish Tripathi, the founder and President of this life-changing organization.
---
---
Tags: Social Impact Internships, Social Impact Internships Summer 2022
---