IAP Health: Srihitha Dasari ('26)
"Creating a system of care for autistic patients, without the need of autism experts."
This was something that my supervisor, Alex Friedman, said to me in our very first meeting. Assigned to the Autism Friendly Initiative (AFI) program area at the Boston Medical Center Autism Program, I was fascinated by a goal that did not necessitate, or rather discouraged, the involvement of experts on autism spectrum disorder (ASD) in the first place. And as the month progressed, this goal became increasingly apparent. AFI seeks to ubiquitously integrate this "autism friendly" way of care, improving the healthcare experience for autistic patients across all healthcare fronts and into the delivery mechanism of all healthcare professionals, regardless of prior autism knowledge.
The AFI model is centered around 4 tenets: individualized care plan, training, sensory accommodation, and visit preparation. Much of my responsibilities throughout IAP could be classified into this system.
Individualized Care Plan: These responsibilities were not individual to me in the IAP cohort! Autism Support Checklists (ASC) collect individualized patient information to create more respectful, comfortable encounters for them at BMC. We were able to directly interact with BMC patient caregivers to gather individualized patient accomodations for hospital services. So far, AFI has compiled information for over 1,000 BMC patients, and I was able to complete around 30 this month.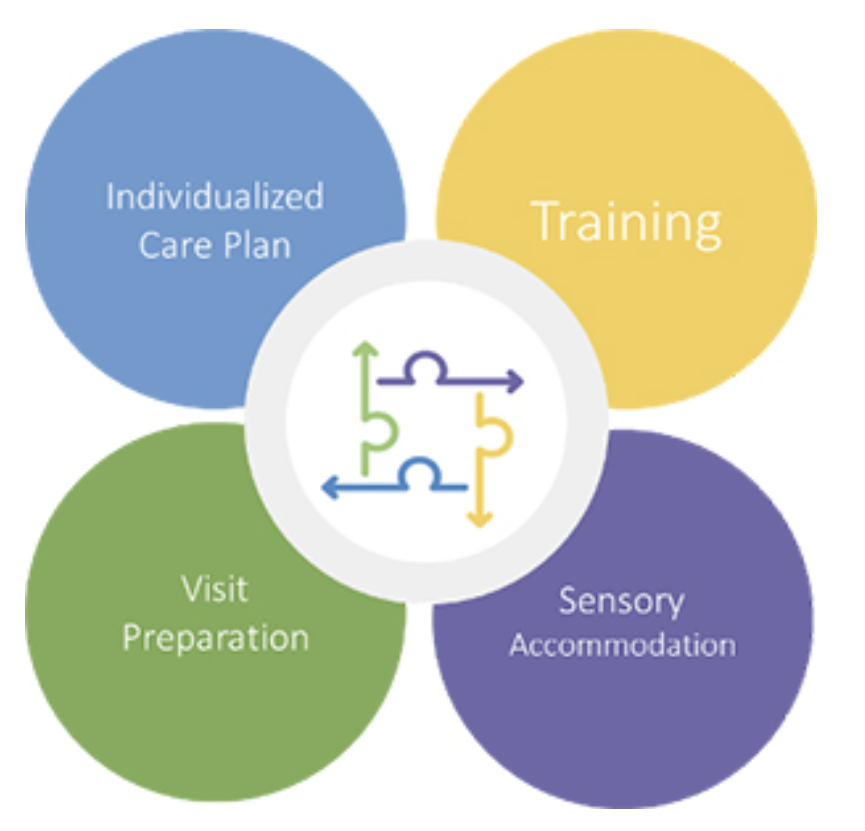 Training: AFI routinely trains thousands of healthcare trainees and professionals, including all Boston University medical students, dental students, and genetic counseling students, as well as all Boston Medical Center public safety officers. These trainings help to improve professional comfort, familarity, and knowledge in caring for autistic patients. The entire IAP cohort was able to sit in on two ASD101 trainings with public safety officers and BU med students, and I additionally attended a similar virtual training session with DCF CWI (the Department of Children and Families Child Welfare Institute). This last one was especially interesting as a number of BMC autistic patients have DCF interactions and vulnerabilities regarding their home and caregiver situations; it was comforting to know that specialized autism training was taking place on the DCF side as well.
Sensory: AFI has created and distributed over 3,000 sensory toolpacks across BMC's campus. These toolpacks, containing various fidget toys and handheld sensory items, help to calm, distract, and redirect patients during challenging appointments at the hospital. This month, specifically, a classroom at Upham Elementary School in Wellesley completed a read-a-thon where they fundraised based on the amount of pages they were able to read – the books were all about autism, and the fundraising was aimed at purchasing supplies for these sensory toolpacks. Raising over $2,000, the class wanted to assemble approximately 200 toolpacks, for which I was able to create labels to be included on each as a token of appreciation from the Autism Program, and pick up donations for the toolkits from the main hospital campus with a fellow IAP intern, Pari. It was incredible to see how these toolpacks are typically made by people with autism, and that the Autism Program has such personal relationships with various schools in the Greater Boston area to be able to facilitate these types of projects.
Visit Preparation: Truly the bulk, or a significant portion, of my responsibilities over the month rested within the visit preparation element of the AFI model. AFI maintains a publicly-accessible "Healthcare Social Stories" website (created by Jeff, a 2021 IAP Health intern!), meant to prepare patients for a range of different medical procedures with simplified descriptions and pictures. These social stories are currently available in English, Spanish, Portuguese, Mandarin, Korean, Russian, and now Albanian, an important tool for BMC's large non-English speaking patient population.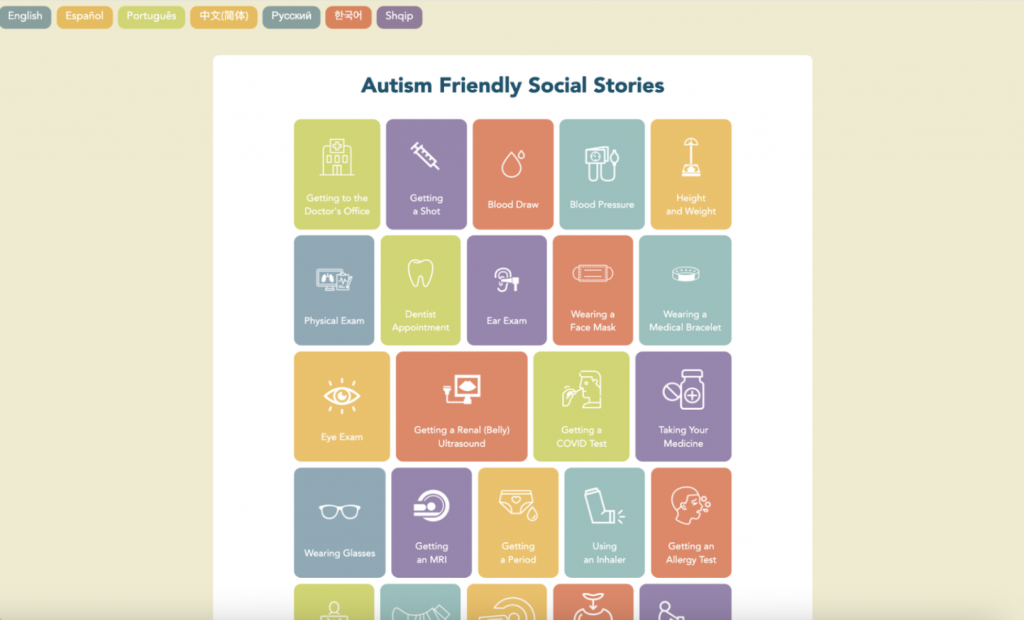 I was largely tasked with conducting backend support for the website and given the liberty to both ideate new stories and collaborate with BMC clinicians and hospital experts to authenticate and review their content. Over the course of IAP, I was able to add Albanian, its seventh language, to the website's functionality, with translations for 27 social stories, as well as additional Russian, Spanish, and Chinese translations for 25 existing stories. I also populated new social stories on trying new foods, preparing for surgery, and getting an IV to the website. Moreover, channeling my own interests in neurology, I created stories on getting a PET scan and doing a sleep study, which have recently completed review by clinicians on BMC's nuclear medicine and sleep clinic teams and are being added to the website. Upon discussion with the feeding team at BMC, I am finishing up drafting a requested social story for changing a feeding tube. It is amazing to see how the website has grown from the few stories when it was first made to the 34 it now has, with expanding language options. We are now working towards the addition of Hindi translations to the website with Pari's assistance, which would become its eighth language!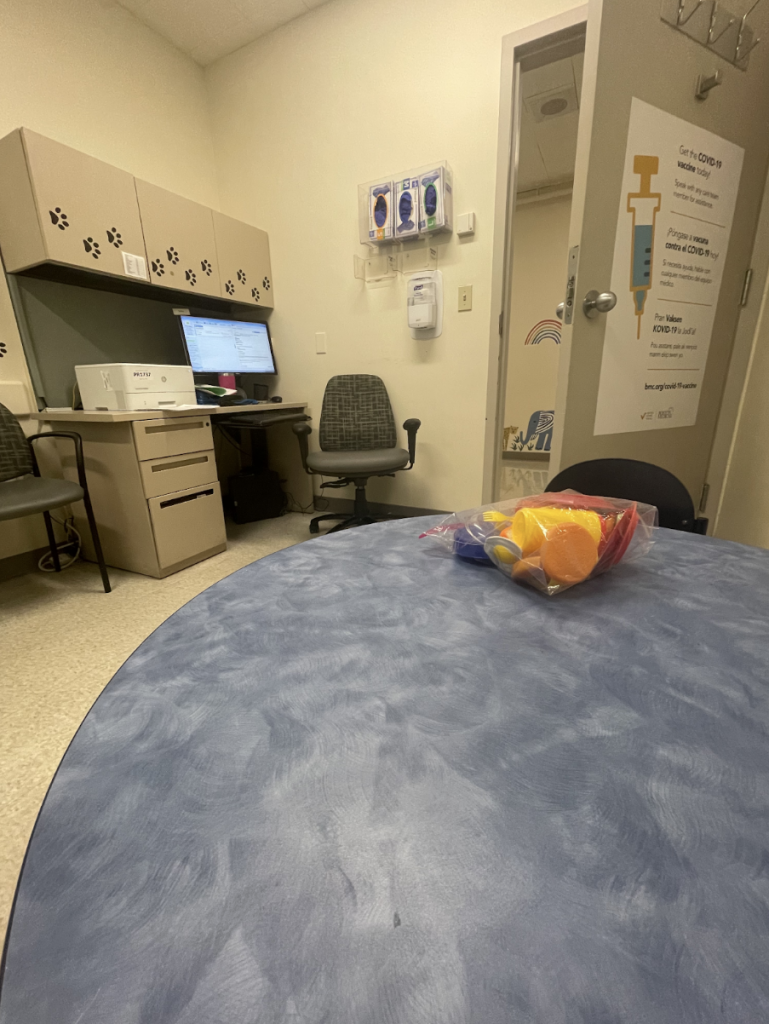 Experiencing the entire pipeline of story ideation to publishing was fascinating. I was able to sit in on a bi-weekly Autism Resource Specialist meeting where everyone was actively providing feedback on completed social story drafts, and communicate with professionals working in the cardiology, radiology, neurology, and gastroenterology sectors to update and better story versions. It was further eye-opening to see the tangible impact of the stories on different fronts. A doctor on the gastroenterology team, for example, had mentioned in our communication that the Trying New Foods story would be especially important for one of their feeding clinic patients, and in my clinical observation with Dr. Reddy, a pediatrician at BMC Developmental-Behavioral Pediatrics (DBP), she showed a family different social stories as a resource for their young child recently diagnosed with ASD.

This month, I also led the creation of the 2022 Annual Report for the BMC Autism Program. I worked with Alex and Shari to acquire updated statistics, interview elements, conference information, initiative highlights, team biographies, and pictures for the 12-page report, which will be shared with BMC stakeholders, department leadership, and funders as a centralized resource on program information, services, and reach. Many others on the Autism Program team, including Belinda, the program's Junior Research Scientist, and Liz, the program lead, also helped me with research and team information. A valuable element of this process was the overarching knowledge I gained about the program as a whole, from statistics like the number of annual referrals to the program tripling since 2017, to long-lasting medical and university partnerships, to research publications and international conferences in Ireland traveled to this year, to a conference hosted by the program attended by nearly 100 US and international attendees to learn about building an Autism Friendly practice.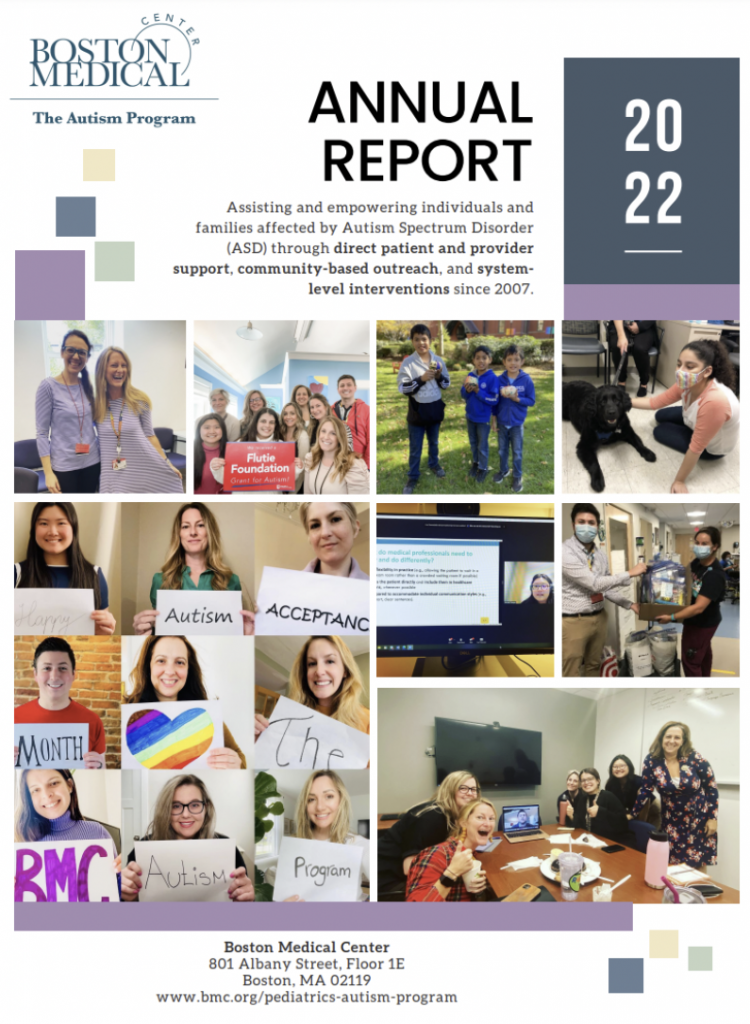 And this theme of absorbing underlying ASD-relevant characteristics was prevalent in almost all of the projects I did, no matter their extent. With handling the voicemails for the Autism Program, I was able to hear firsthand about concerns of various family members, whether in regards to finding support resources, a primary care physician, ABA referral information, or simply a point of contact. With helping Alex address envelopes one day to families on behalf of The Massachusetts Center for Unexpected Infant & Child Death, I learned about how familial and child support can extend beyond one's lifetime, and the value of that support. With reviewing different ABA documents before their translation, I learned about the extent of services offered in different languages, elevating the level of accommodations provided by the program. With conducting database entry for the Autism Registry along with the rest of the cohort, I learned about the world of IEPs, and how services and interventions can vary drastically across autistic patients. With Jeffrey, a fellow IAP intern, and I meeting with Dr. Christiansen at BMC DBP to brainstorm a process to better collect information from teachers during their evaluation, I learned about HIPAA considerations in survey materials and the sensitivity and repercussions of sending even the mere name of a child through an unsecured email. With our weekly reflection dinners at the PKG office, I learned about the social determinants of health, identity characteristics, and disability rights as they applied to our work at BMC, and found a place for meaningful discussion on our own roles in exploring the improvement of health of a society.
Additionally, the opportunity to attend Chief Rounds, Lit Sem, Pediatric Grand Rounds and Case of the Week, Autism Resource Specialist Meetings, AFI consultations with different universities and hospitals, brainstorm sessions for upcoming research studies, lectures, Accessibility Committee meetings, and team check-ins on a weekly basis was illuminating. I would have never have thought that I would be absorbing information about neuropsychological testing, Chagas disease, math learning disabilities, assessment and treatment of mood disorders, milestones for adult DBP education, and lung/respiratory pressure, to name a few, in just one month!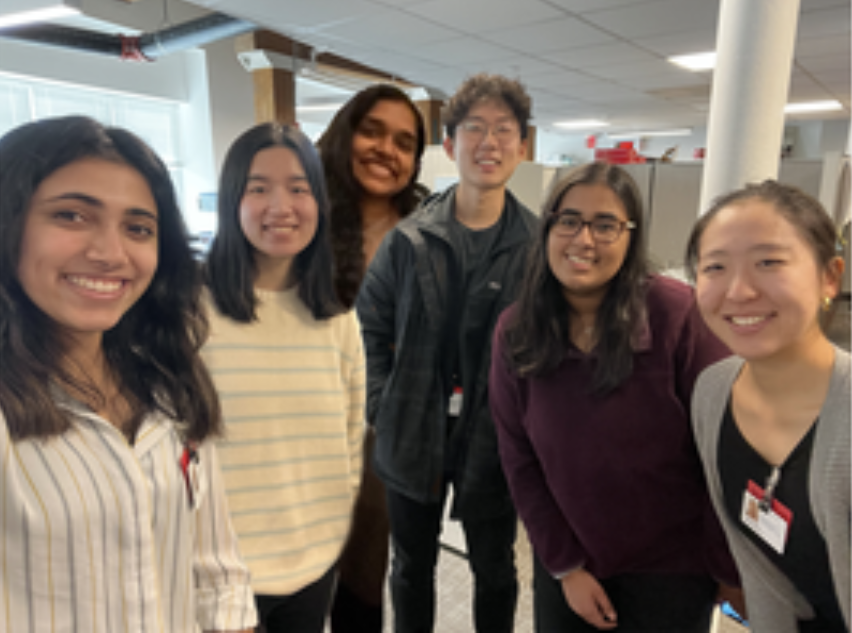 One of my biggest takeaways from this experience is the value of individualized, adaptive, and thorough support, and the power of both educating and destigmatizing the future medical workforce on conditions as individualized as autism. I truly cannot thank everyone on the BMC and PKG team enough for this unique experience – a special shoutout goes out to my supervisor Alex, who could not have provided me with a warmer welcome to the team; Vippy, Kristie, Nadia, and Tayler from the PKG team for being as excited to hear about our experiences as we were to share them; and my entire IAP cohort for their insight and support with responsibilities (and bonding over our daily bus struggles!). I am incredibly excited to be given both the opportunity to continue this internship through the next few semesters and the prospect of gaining further invaluable hospital exposure, project knowledge, and team/patient/caregiver interaction!
---
To learn more about the PKG IAP:Health program, click here.
---
Tags: Health, Health & Medicine, IAP Health, IAP Health 2023
---