PKG Alum, Victor Damptey featured in MIT News!
Victor participated in our spring break and COPE Navajo Nation programs.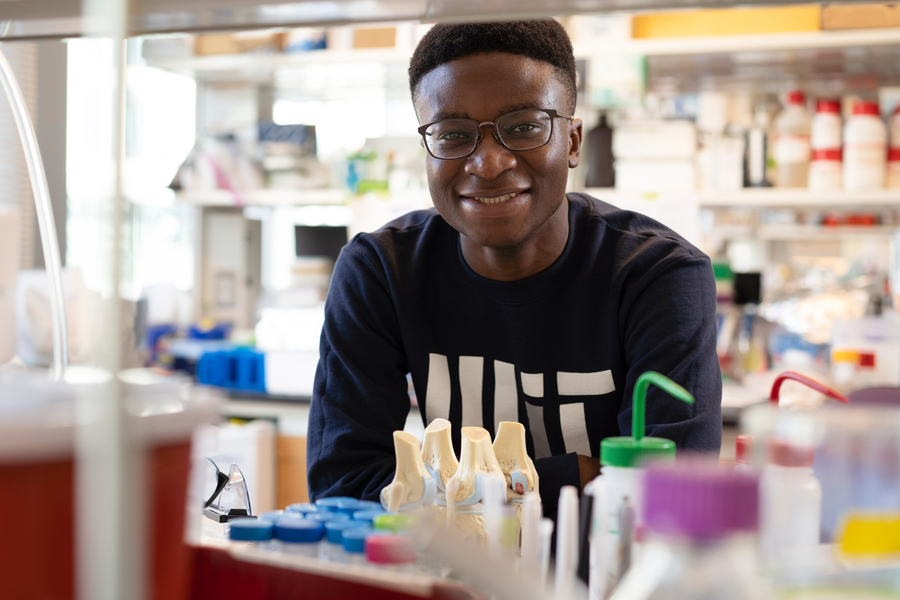 Victor Damptey has been studying Spanish ever since he attended a language-immersion elementary school.
"It was a great opportunity to explore beyond the bounds of Minnesota to learn about different cultures and people around the world," says Damptey. "This experience shaped a significant portion of my childhood."
In his home state, Damptey found few opportunities to improve his fluency outside of the classroom, but he continued to study the language throughout middle school, high school, and now college.
Currently a senior, Damptey is pursuing a minor in Spanish alongside a major in biological engineering. Following graduation, he plans to attend medical school to become a physician-scientist while using his language skills to address disparities in health care.
While in high school, Damptey volunteered with a local pediatric hospital, finding that connecting with patients his age was a rewarding experience. He was inspired by not only the medical teams working with each patient, but also the years of research and development put into creating effective treatments and medications.
"Having the opportunity to volunteer in that medical space made me interested in the power of medicine in improving people's lives," says Damptey. "That sparked a strong desire within me to contribute to that field and make my own impact on other people."
He was also a Boy Scout while growing up, and collaborated with a nursing home to create a music therapy program for residents with dementia for his Eagle Scout Service Project. He recalls interacting with the daughter of one of the elderly patients after a session.
"She told me with tears in her eyes that she learned details about her mother that she had never learned before and didn't even have the chance to learn before dementia started to take apart her mother's life," says Damptey. "That was a significant experience that I had, learning that this disease is a very personal one and that it affects these families in different ways."
That, along with his hospital volunteering experience, laid the groundwork for his interest in medicine as both a technical and social endeavor. At MIT, he's worked with the PKG Center to continue to develop his passion for public service by participating in their spring break program as a leader in the health care track.
Read the full article on MIT News
---
Tags: PKG Alumni
---