Social Impact Internships: Nicholas Liu ('26)
Hello! I'm Nicholas, a first-year undergraduate student interested in computer science, data science, and economics. Over IAP, I was a food waste data intern at the World Wildlife Fund, one of the largest nonprofit organizations dedicated to protecting wildlife and nature. The purpose of my project was to provide quantitative and qualitative data to drive change in food waste management through public-private partnerships. If you're interested in learning more about the project, I'd highly recommend reading this page: https://pacificcoastcollaborative.org/food-waste/
Before starting the internship, I knew that food waste was a universal problem—the amount of food scraped into the trash in our dining halls is unrelenting. However, I didn't understand the true magnitude of the issue. In 2019, 80.6 million tons of surplus food was generated in America, which is 35% of total food production. This equates to hundreds of billions of dollars lost each year, and more carbon emissions than the entire airline industry.
Truthfully, I never thought that climate change was an issue any individual could tackle. Every factory, coal mine, or oil rig felt tied to a large untouchable corporation. It felt like no one had a reason to sacrifice profits or convenience for protecting the future of our Earth. But food waste is special: it is the lowest hanging fruit out of anything we could do to help our planet and everyone has an incentive to contribute. For those who care about nature and the environment, reducing food waste will significantly reduce landfill sizes and carbon emissions. For those who care about social change, recovering excess food can feed up to ⅓ of America. And for those who care about their business' bottom line, reducing food waste has been proven to reduce operating costs and increase profits.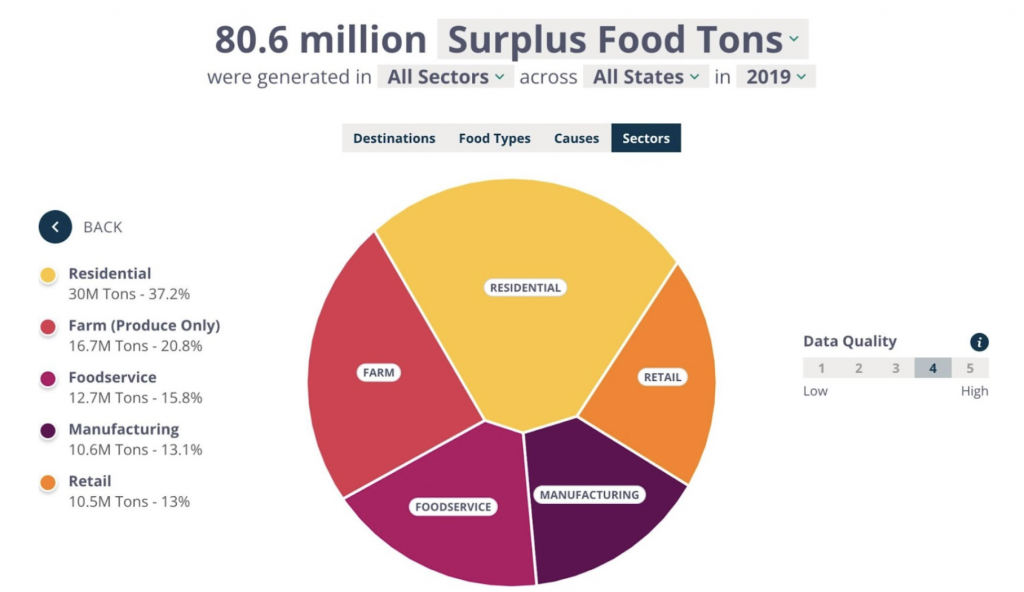 Interestingly, us individuals are the greatest contributors to food waste: residential food waste makes up 37.2% of food waste in America. We can't solely blame large corporations for overproduction, consumers are part of the problem too.
So what can we do about it? Governments and private companies have already conducted numerous case studies regarding food waste prevention and reduction, so it's important to utilize knowledge of past experiences to integrate proven strategies and efficiently allocate resources towards new pilot projects and case studies.
Luckily for us STEM oriented students at MIT, the most common theme among successful food waste intervention projects has been around the use of technology for data collection and distribution. With hard evidence to back environmental impacts, financial upsides, and social benefits, public and private leaders can be better convinced to take action against food waste.
For farmers and growers, data collection helps identify major causes of rejected food on the field
For manufacturers, data collection helps identify errors in the manufacturing process that lead to food waste
For distributors, data collection illuminates gaps in the transport chain
For retailers, data collection can improve inventory management and pricing
For foodservice companies, data collection identifies kitchen waste and helps optimize purchase orders
For governments, data collection helps keep track of nationwide food waste trends across time
Food waste is a growing problem, with rising food production and rising food waste per capita. Luckily, we also have the skills to tackle such issues. Whether that be developing an app to facilitate donations from grocery stores to food banks, or a machine learning algorithm to optimize purchase orders for a restaurant, there are many ways that we can contribute to food waste reduction. It's up to our generation to promote awareness of food waste and create meaningful change in the environment, society, and economy through food waste prevention and reduction.
---
---
Tags: Social Impact Internships, Social Impact Internships IAP 2023
---