PKG IDEAS Alum Anh Vu Sawyer Featured in Oprah Daily!
Anh Vu Sawyer was a finalist in the 2020 MIT PKG IDEAS Social Innovation Challenge. Anh was a team leader for BeTu. Learn more about BeTu here!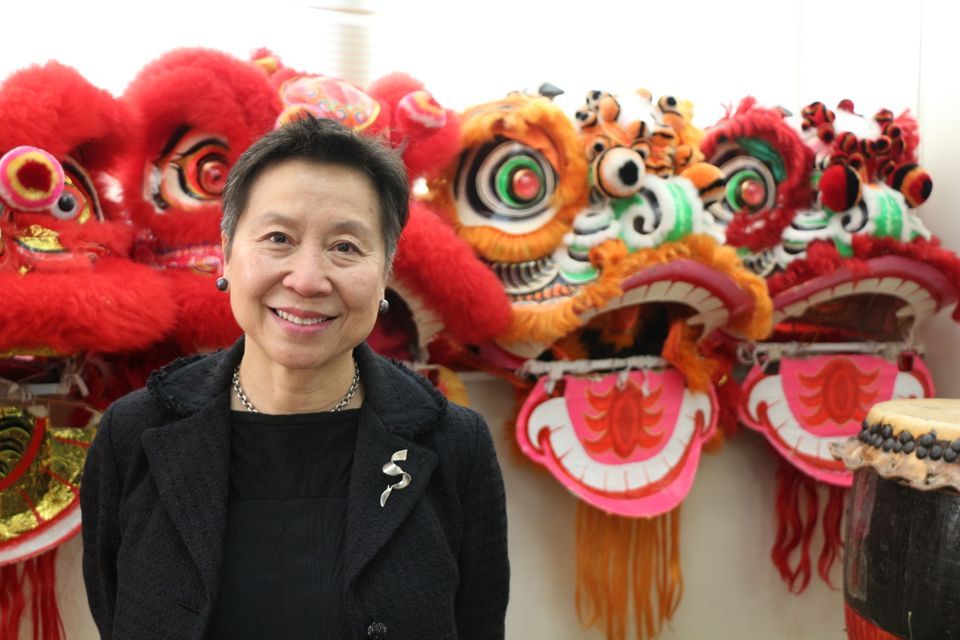 With an ever-widening income gap, the very idea of the American dream seems more elusive than ever. Yet every once in a while, we hear a story that reminds us of the strength of its tenets—social mobility, political and religious freedom, and yes, the pursuit of happiness. Author, speaker, and Harvard Advanced Leadership Initiative fellow Anh Vu Sawyer represents a more nuanced version of the rags-to-riches tale. Vu Sawyer was born Vu Thi Ngoc Anh in Vietnam in 1955, and her story begins on April 30, 1975, when she and her mother, father, and three siblings were evacuated during the fall of Saigon, and ends with her in her late 60s going to Harvard and becoming a successful social entrepreneur.
Like so many political refugees, Vu Sawyer had to start from nothing when she came to America after abandoning her medical school studies in Vietnam as the family headed into an unknown future with only memories of a life left behind. They were unable to speak English, and their journey took them to five refugee camps, including Wake Island, Guam, and Fort Chaffee, Arkansas.
"I was angry at God for a long time. I couldn't understand why this was happening to my family," Vu Sawyer says about her early days in the U.S., when her only solace was in reading the Bible and going to church. Sponsored by a Christian Reform Church in Oakbrook, Illinois, Vu Sawyer and her family were sheltered for several months by a parishioner who had an available rental unit. While the church could pay several months of rent, the family needed to figure out how to take care of themselves moving forward. While searching for work, they devoted their time to studying English and learning everything they could about American culture. They cooked Vietnamese food for their sponsors as a gesture of gratitude. Shortly thereafter, her mother, a former teacher and principal, got a job as a dishwasher, and her father became a garbage collector for a watch company. As the eldest child, Vu Sawyer was compelled to pitch in with a job at a local hospital to help provide for the family.
It seemed that her dreams of pursuing a higher education faded with the grind of assimilation and survival. During that time, she was consumed by fear and sadness that she would spend her life just trying to stay afloat rather than being able to pursue any of her dreams.
That is, until a couple from the church found a way to help her enroll in Wheaton College. She spent two terms there perfecting her English. It was there that she spotted a young man with long hair, fanciful clothes, and an earring. She says it was more or less love at first sight, and it took her just a few weeks to fully fall for with this "exotic" American man named Philip, who would become her husband. Spoiler alert: They've been married nearly a half century.
Her life would take another fateful turn when her sponsor family helped Vu Sawyer and two of her siblings get full scholarships at Calvin College, a Christian Reform school in Grand Rapids, Michigan, that offered support to several dozen Vietnamese refugee students. She graduated with a degree in mathematics and economics, and two of her brothers ultimately became engineers. Her youngest brother became an ob-gyn and has a thriving practice in California.
Vu Sawyer and her husband began their married life like many young couples. They had three children, she became a working mother, and they moved to Colorado Springs, where they lived for 13 years. She worked as a program director there for a nonprofit that developed healthcare and educational projects in the U.S. and Vietnam.
It was when they moved to Worcester, Massachusetts, for her husband's work that she got a job as the executive director of the Southeast Asian Coalition of Central Massachusetts (SEACMA), where she spent nearly 10 years leading the org's mission to support immigrants, refugees, and low-income residents. The goal of the organization was to help people integrate into American society through education and employment while maintaining their cultural identity. It was meaningful work and gave her an inkling of the community she wanted to serve.
But after nearly four decades of juggling full-time work and raising a family, she had a sort of epiphany, or as she describes, "something happened," in her early 60s.
"Because of all of my family responsibilities, like many women, I put aside my own big dreams," she says. "Now that the kids were independent and all out of college, I was ready to pursue those dreams with abandon."
While still working in Worcester, Vu Sawyer and her husband moved to Boston and started their next chapter. She began to focus on how she might create greater impact and foster a broader refugee community. Vu Sawyer also underwent a spiritual awakening. While her Christian religion had provided necessary emotional spiritual scaffolding, especially during those lonely early years in America, she made the decision leave the church and forged a spiritual practice of her own.
"God knows what is in my heart and knew that I was looking for a new community of people, as I set out on a reimagined journey," she says.
In Boston, one of her volunteer commitments was working with kids who were immigrants and refugees and were first-generation high school graduates, which was a logical segue from her previous post. Her goal was to help them realize that they, too, could create optionality and the potential for greater fulfillment by going to college. It wasn't until she got to talking with the students that she understood that language and academics weren't the only barrier to entry for these kids. "They all told me that they were too poor and felt that they wouldn't fit in at college based on their family background," she says.
Listening to these kids reminded her not only of her younger self but also of the real—and imagined—obstacles that dogged her into adulthood.
"I made a deal with them. If they would apply to college, then I would apply to a graduate program at the same time," she says. "I really didn't know what I was saying, but that was what I put out as a challenge."
Ultimately, all 20 kids applied to college, and all of them were accepted. Amazingly, Vu Sawyer lived up to her promise and applied for an MBA at Massachusetts Institute of Technology.
At 66, she assumed she would never be accepted, until she was.
"I was excited, but I had no idea how I was going to pay for this program, as we didn't have a lot of money," she says. " I almost had to sell our house twice and ultimately refinanced, but I found a scholarship." And for the final closure of this virtuous circle, when some of her students learned about her financial situation, they helped raise money to complete her tuition payments.
As a graduate student, she started piecing together all aspects of her own immigrant experience and her nonprofit work, and thinking about a business plan that would be focused on social impact, namely on the immigrant and refugee communities. "It was a big risk, but I wanted to dare to live the American dream again, and none of us will die for trying something new," she says. "Besides, at my age, I still have a lot to learn, and I'm going to show up," she said.
After her graduation from MIT in 2020, Vu Sawyer began to plan her departure from SEACMA to focus on her new social-impact business venture. Her company, which she called Anh55 after her name and birth year, is in many ways a natural extension of her own story: engaging immigrant and refugee communities in producing a line of sustainable clothing for women over 40 that's both affordable and stylish. While working on the plan, a friend reached out and suggested that she apply to the Harvard Advanced Leadership Initiative, a program that would allow her to develop her business idea more fully. She was not only accepted to the program but also received a scholarship.
The yearlong Harvard program is specifically designed to help individuals fine-tune a project in its early stages of development so that it is all but guaranteed to create meaningful social impact.
While still in school, Vu Sawyer received a grant from the Massachusetts Growth Capital Corporation, a state agency that contributes two dollars for every dollar she raises. A grant from the Boston Mayor's office has allowed her to secure a three-year lease for her business.
Her plan for production is to start in Boston, then relocate to Vietnam once everything is established. She has already vetted a refugee community in Northern Thailand that will focus on creating labels for her clothing line.
"Women in these communities have no ability to have machinery, so they have perfected both embroidering and weaving techniques," she says. And while a machine can take three seconds to create a label, doing it by hand can take four hours or more, according to Vu Sawyer. "We plan to pay these women $4 to $6 per label in their traditional manner, which in many parts of the world would be a day's wage."
Yu Sawyer explains that there are three generations of refugees in some places in the world. Her goal is to help them earn a living to find their own path to a better future. She also plans to help train teachers to teach English as another way to break the poverty cycle inherent in being a refugee with no education.
"We've already set up Cooperatives Without Borders to help our label-making teams create co-ops," she says. "I want Anh55 to ultimately be an employee-owned, sustainable company helping to lift women out of poverty with an economic model that we can take around the world."
The Harvard program will end later this year. Meanwhile, as Vu Sawyer continues to line up grants and investors, she is poised to produce her first line of ready-to-wear clothing in a soft launch at the end of this year at Anh55.com.
As she approaches 70, an age when so many others plot their retirement, Vu Sawyer is just getting started. After a decades-long journey that has taken her from refugee camps to Harvard, Vu Sawyer plans to spend the rest of her life as an entrepreneur committed to supporting women and the immigrant and refugee communities in a very direct way.
"I love this country and its ideals and opportunities," she says. "I think God led me to MIT and then to Harvard to prepare me for this work."
---
Tags: Alum, IDEAS, IDEAS 2020
---