Explore social issues in context. Have fun working together as a group!
Connect with local efforts to better their communities. A PKG Spring Break experience connects you with a variety of nonprofit, government, and community partners working on the front lines to advance issues you care about.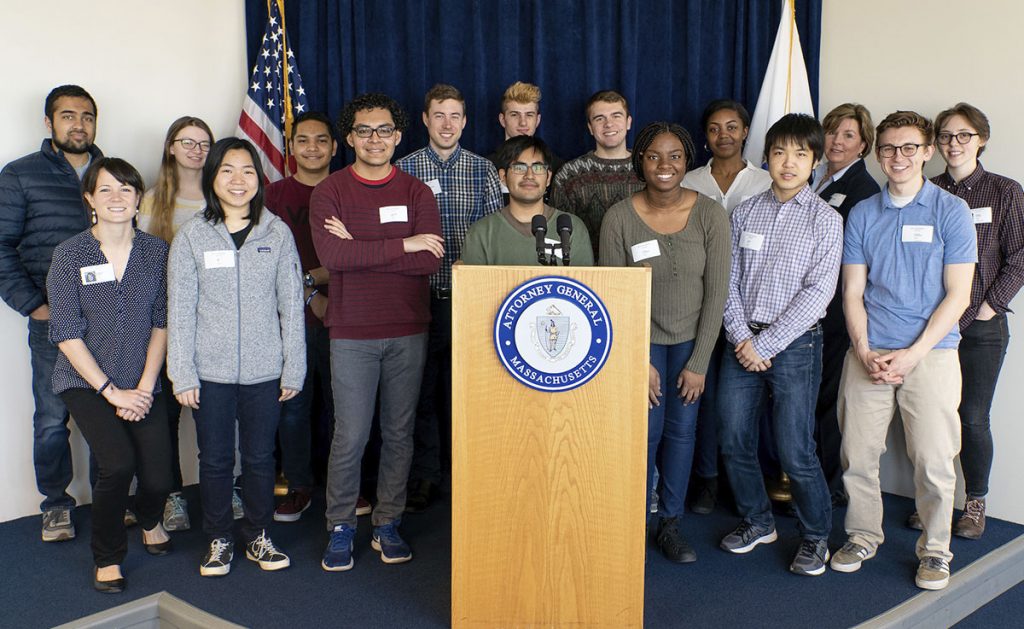 Program Overview
For spring 2022, we will offer 3 cohort experiences for groups of 10 students each. Each group will focus on a social theme throughout MIT's spring break from March 20-24, 2022. As a group member you will:
Have fun together as a group and get to know your cohort members
Reflect on various social factors related to your theme and consider the dynamics of power, privilege, and positionality as it relates to public interest work around your theme
Meet community organizations and practitioners that address your group's topic, learn how the organization serves clients, and the issues/policies they face
Meet other MIT stakeholders and learn about efforts on campus to engage in your theme
Current Themes/Projects
PKG Spring Break: Climate Change
PKG Spring Break: Health
PKG Spring Break: Tech for Good
Each thematic group will include 10 students and be supported by staff mentors. Spots are limited to facilitate quality group connections and conversations. All programs are free to participants. Meals will be provided during programming hours. Due to limited capacity, we ask that each applicant apply to only one of the group experiences.
2022 Timeline 
This year we'll be based locally in Cambridge. We recognize students on campus during spring break may have some competing opportunities, so we're offering a tiered week calendar:
Sunday, March 20: groups meet in the afternoon to embark on a retreat experience in the late afternoon. Groups will stay together off-site for Sunday and Monday nights.
Monday, March 21: full day of community visits, volunteering, and fun activities
Tuesday, March 22: full day of community visits, volunteering, and fun activities
Wednesday, March 23: half day of activities
Thursday, March 24: half day of activities
2022 Events and Deadlines
Info Sessions:
Tuesday, February 8th
Tuesday, February 11th
Applications:
The application deadline has been extended to Thursday, February 24, 2022 at 11:59pm!
*We hope to welcome most applicants to participate in the program. In the case that we have an overwhelming surplus of applicants, we will arrange for brief interviews, which will occur Feb 17-Feb 24.
Program Dates:
| | | | |
| --- | --- | --- | --- |
| Application Deadline | | | Wednesday, February 16 |
| Program Interviews* | | | Thursday, February 17 – Thursday, February 24 |
| Pre-Trip Group Meeting #1 | | | Monday, February 28th |
| Pre-Trip Group Meeting #2 | | | Monday, March 7th (remote) |
| Pre-Trip Group Meeting #3 | | | Monday, March 14th (remote) |
| Spring Break | | | Sunday, March 20th – Thursday, March 24th |
| Debrief Dinner + Showcase | | | Monday, April 4th |
How to Get Involved
Apply as an individual to join one of our spring teams. We'll take care of the details, cover the cost of participation, and set up the community partnership. 
The PKG Center also works with 6 undergraduate leaders to facilitate these experiences for your peers. These are paid positions, and we welcome student input into the program. Please email pkgcenter@mit.edu asap if you're interested in leading!
We have limited funding available to support student group initiatives. Please contact pkgspringbreak@mit.edu by mid-November to inquire about receiving support for your group initiative over spring break. Resources might include, advice, community connections, brainstorming logistics, training workshops, and funding.
---
Other Opportunities + Collaborations
Terrascope is a learning community for first-year students to solve complex, real-world problems starting in their first semester at MIT. Over the course of Terrascope Spring Break Missions, students work in teams to develop solutions, drawing on diverse perspectives, interdisciplinary research, and a supportive Terrascope community. Learn more about their program here!
MTEI and the PKG Center often collaborate on programming and workshops. MITEI typically offers a spring break experience to undergraduate students. Stay up-to-date with their deadlines here.
In 2021, the PKG Center collaborated with colleges across the country to host a series of virtual spring break events called Journeys Toward Justice. Find the recording of our event from last year here: Climate Change in Boston: Social Determinants, Equity & Action. Check the Journeys Toward Justice website for updates for this year here.
---
Questions? Email: pkgcenter@mit.edu
*We're excited to offer programming in-person and in the local community. We will adhere to MIT, city, state, and local protocols regarding COVID-19. Some programming may be offered in a hybrid manner, and all events are subject to change. We will communicate with participants should any changes arise.