PKG IAP: Health Alum Valeria Robayo featured in MIT News!
Valeria Robayo ('23) participated in the PKG IAP: Health program during IAP 2021. Valeria contributed to the Autism Program at Boston Medical Center as a Resource Intern. Read more about her PKG IAP: Health experience here!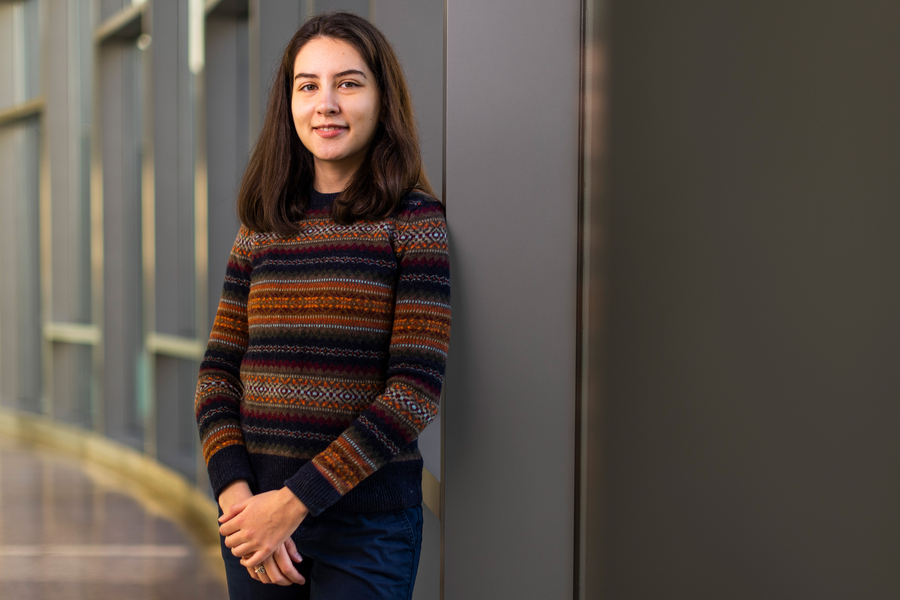 From a young age, Valeria Robayo has taken the lead in her own education. At age 3, her family moved from Bogotá, Colombia, to Houston, Texas, to seek better opportunities for Robayo, and later, her sister. She spent summer days at the local library while her parents worked to support the family. Her parents, who were teachers, encouraged her to make her own lesson plans and study what was interesting to her.
"Some of the books that attracted me the most in the library were the anatomy textbooks," says Robayo. "At that time, my dad was putting off an elective knee surgery, having to endure significant pain as we couldn't afford the medical bills. There was a part of me that wanted to see what was going on with his knee, so I would look at the anatomy of that."
That experience sparked an interest in medicine, and Robayo describes it as her "first step in a very long journey." In high school, Robayo took a class where she had the opportunity to shadow more than 40 different departments at her local hospital.
"Back then I was still narrowing down my career interests," says Robayo. "I was really interested in medicine because it employs science to serve others. I also realized that medicine is a system and not just a patient-doctor interaction. Pursuing medicine as a career would allow me to combine my interests in science and also provide a service to my community."
The people-centered aspect of medicine informs Robayo's choice of study at MIT, where she majors in management with a minor in biology and German. To some, her major might come as a surprise for someone in the midst of applying to medical school, but Robayo sees things differently.
"I wanted to pursue something that would allow me to get a practical perspective while strengthening my scientific foundations before going to medical school. I really wanted a college with a business or management undergraduate major," says Robayo, noting that the MIT Sloan School of Management was a big factor in her college decision. "I wanted somewhere where research was really supported and where the culture of students was really creative. MIT has the perfect combination of that."
Robayo has followed through on her desire for a well-rounded perspective throughout her time at MIT. She has pursued wet lab research through the Undergraduate Research Opportunities Program, and research in shared decision-making at Massachusetts General Hospital, honing both her technical and people skills. She has also interned with the U.S. Government Accountability Office through the MIT Washington summer internship program, contributing to an audit of the Veteran's Health Administration and gaining an understanding of how policy affects medicine in the U.S.
Her most ambitious project to date is Resource Hub, a nonprofit she founded in the summer of 2021. Drawing from her own experiences, and motivated by the challenges brought on by the Covid-19 pandemic, Resource Hub is a free online service that matches underserved community members with local services available to them.
"I wanted to build a project that combined my interests in management and medicine because I love learning experientially," says Robayo. "It was inspired by both my personal experience growing up as an immigrant in the U.S. and struggling to find educational resources, and also from my shadowing experiences and realizing that a lot of patients were coming in with very serious illnesses that could have been prevented had they sought care and taken advantage of a lot of the resources available that they just didn't know about because they were so busy, or because of language difficulties."
Robayo was named a Reimagine Challenge winner for her efforts, and was also able to secure funding from the MIT Sandbox Innovation Fund to continue to grow Resource Hub.
Click here to read the full article on MIT News
---
Tags: Health, Health & Medicine, IAP Health, IAP Health 2021, PKG Alumni
---