IAP Health: Jeff Shi ('23)
My name is Jeff Shi, and I am a sophomore in Course 5-7. This IAP, I worked with the Autism Friendly Initiative (AFI)—part of the Autism Program at Boston Medical Center (BMC)—which focuses on improving the healthcare experience of patients with autism spectrum disorder (ASD). This is accomplished through the AFI's interventions in individualizing patient care; modifying the sensory environment; training staff, clinicians, and students; and providing visit preparation. During IAP, my co-intern, Sarah Lincoln, and I worked on projects that addressed all domains of the AFI's interventions.

One of our projects was to complete and log Autism Support Checklists, or ASCs, which are questionnaires designed to be completed over the phone by families of patients with autism. ASCs collect patients' information such as communication methods, sensory needs, and special interests. The goal for ASCs is to collect patients' unique needs so that clinicians can individualize their care when a patient with ASD makes a visit to BMC. After the information is collected over the phone, it will eventually be logged (by a different person) into the patient's electronic medical record where it will be visible to any clinician. I am happy that our team was able to complete 23 ASC calls to both English and, with the help of BMC's Interpreter Services, non-English speaking families.
The AFI also modifies the sensory environment of BMC by providing sensory toolpacks, which are single-use packs of items that help calm and redirect patients with ASD. My co-intern Sarah focused on developing a draft for a survey on sensory toolpacks, which will be used for quality improvement.
We have a broad and rich collection of knowledge, expertise, support, and resources for clinicians to use when they see a patient with autism, but given the size of BMC, we wanted to make sure that all clinicians and departments were aware of the Autism Program's efforts. To improve awareness of the AFI, we developed a draft write-up of an internal webpage that will be highly visible to BMC employees, as well as a draft flyer that will be distributed.
The AFI also trains thousands of individuals on autism-friendly practices every year, and we aimed to grow this by developing a strategy for contacting external entities who may be interested in receiving training from BMC. Our team developed a template for approaching external entities for training, as well as a strategic list of entities that are likely to be interested.
The final project we worked on was the Autism Friendly Social Stories website, which is a collection of pictures and short sentences that explain what a patient may expect when he or she makes a visit to BMC. Social stories walk patients through procedures such as getting an MRI or having their blood drawn, so that patients can be prepared when they make their visit. I was primarily responsible for this project and was able to smoothly integrate the capability for the website to be present in multiple languages. This was especially important since the website was originally only in English, whereas BMC serves a large population of non-English speaking patients.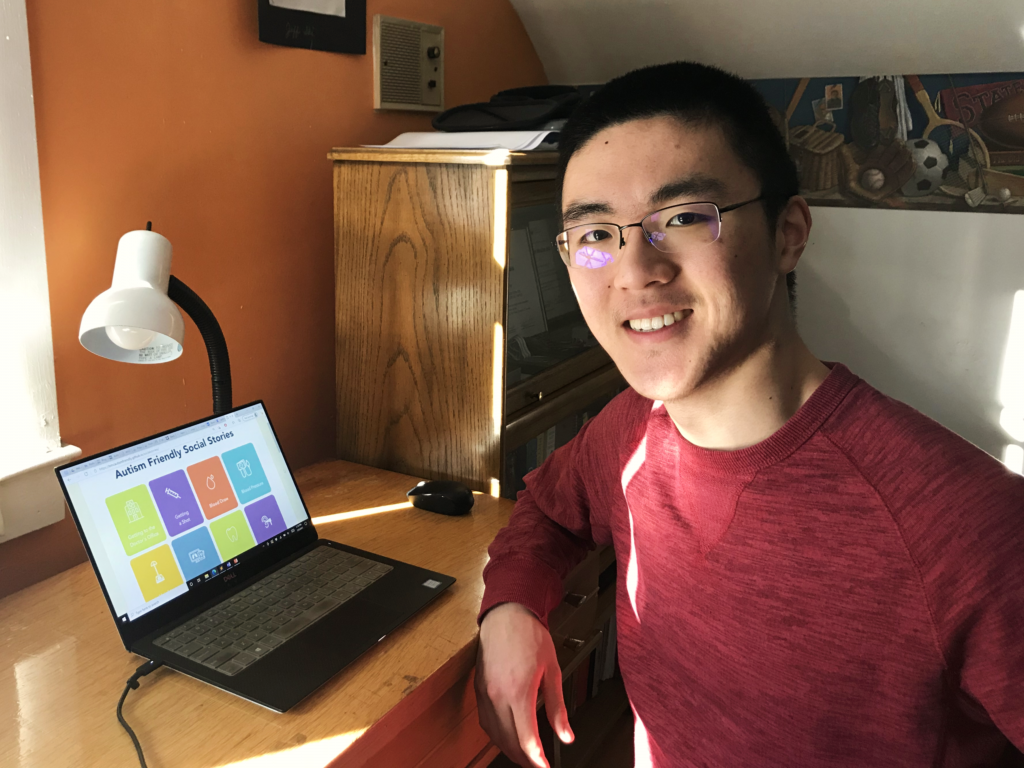 At the start of IAP, I felt intimidated by all the projects that all required a different skill set. I would need to be technical and organized in my coding for the Social Stories website but be warm and friendly as I called strangers for ASCs—all while working remotely without meeting (in person) the rest of my team. Strangely, though, I felt confident about our team's ability to coordinate and to support each other, which was developed early on through our frequent meetings and effective communication. These were in fact the strengths that made IAP run smoothly for us. Our wonderful supervisor, Alex Friedman, was very supportive and would readily answer our questions. He also provided excellent feedback and advice. As a result, I quickly felt integrated into the team and confident in my abilities for our projects.
I also learned from this IAP experience. Through ASC calls, I was able to get a glimpse of the personality of the patient and the family and their mood, within the first few minutes. Through working on the internal marketing project, I learned about the many considerations that are needed to make a marketing strategy effective. Besides learning through the projects, I also gained valuable lessons from the grand rounds and talks that I attended. For example, prior to IAP Health, I was aware of what social determinants of health were and that they were important. Through the talks, I learned about how factors such as racial issues and poverty have strong effects on the health of individuals and populations, as well as how hospitals may intervene and play a role in improving the health of a society.
Overall, IAP Health was an excellent opportunity that I thoroughly enjoyed. Through the program, I was able to learn a lot, work on fulfilling projects, and work with the wonderful BMC staff and MIT interns!
---
Tags: Autism, Health, Health & Medicine, IAP Health, IAP Health 2021
---