PKG Fellowships: Yunus Sevilmi, Part II
To read Part I of Yunus' experience, click here.
The E-wallet Paradox
Almond Finance was founded around the simple idea of binging the basic financial services to the rural communities around the world. It is estimated that 1.7 billion people globally lack access to official banking services, inhibiting individuals and communities from escaping poverty (source: World Bank). With a banking coverage of only 26% banking coverage and 95% mobile phone penetration, Myanmar posed the best opportunity to pilot our mobile financial services platform (source: Tech in Asia).
After conducting market research and tracking the trends in e-wallet deployment across Myanmar and Southeast Asia, we have realized that our problem statement needed an update. In Southeast Asia, e-wallets have overtaken traditional banks as the main providers of financial services (source: BCG). Unlike banks, these apps are less reliant on physical branches and thus more accessible, versatile and affordable. However, while banks are interconnected across the world through networks like SWIFT and ACH, the e-wallet services are still too young to be interconnected and regulated. This poses an interesting paradox: E-wallets promise to bring financial services to the unbanked and connect people financially across distances, while the lack of connectivity between distinct e-wallet platforms create silos in the economy and inhibit the flow of money.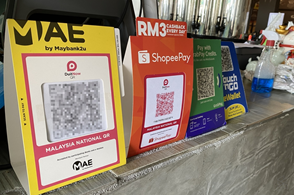 The common work around is for each user to have several different e-wallet accounts and the merchants try to accept all forms of e-payment by plastering their windows with the custom QR codes of each e-wallet app on the market. It became clear that the world did not need another e-wallet.
 Going forward, Almond promotes financial inclusion through a new angle. We are developing a proprietary platform to integrate the existing e-wallet and other financial services across Southeast Asia. Our vision is to enable our users to send money from their existing e-wallet accounts to all other wallets, across platforms and borders. Instead of distributing the fast-growing e-wallet ecosystems we seek to add value to them through financial interconnectivity.
---
If you're interested in doing a PKG Fellowship, click here to apply for a summer opportunity by March 30th.
---
Tags: PKG Fellowships, PKG IAP Fellowships 2021, Tech, Tech for Good
---