PKG Social Impact Internships: Emily Kiley ('22)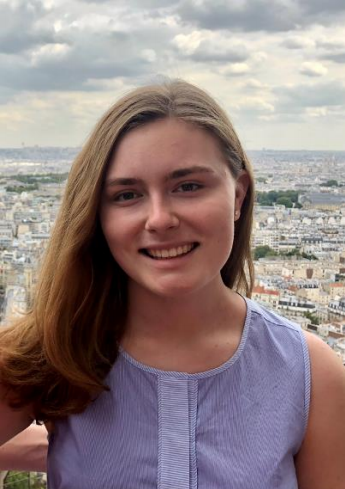 My name is Emily Kiley, and I am a junior studying mechanical engineering with a minor in design. My interest in sustainability drew me to my internship this spring as a Food Sector and Engineering Sustainability Analyst at the World Wildlife Fund (WWF). 
A few weeks ago, I planted a few seeds in a small pot on my windowsill. Every day I enjoy taking care of my green bean plant and watching it grow, and it is now nearly too big for its pot. I planted it around the time I began to speak with a few American farmers to gain insight for my internship project. The leafy green plant brightens up my room, but it also helps me feel a little bit more connected on a basic level with my internship at WWF, in which I have uncovered a newfound appreciation for the country's complex agricultural system and value-added specialty crop supply chain. 
At WWF, I am working on the Next California Project, determining the feasibility of shifting some of the nation's specialty crop growth from California to the Mid-Delta region. The U.S. relies heavily on California for fruit and vegetable production, but with climate change and California's worsening drought conditions, many farmers are likely to leave the state. WWF is working to be proactive about this shift by finding optimal locations for specialty crop farming.
The main issue I have been researching is how to ensure that the Mid-Delta region will have sufficient value-added processing infrastructure, such as refrigeration, individual quick freezing,  canning, and other facilities. After uncovering very few of these facilities already in the region, I  am now looking into ways to introduce these processing capabilities with a focus on their sustainability. Specialty crop data from the USDA has been integral to my research, but much of the insight I have received about the inner workings of specialty crop processing has been through conversations with farmers and processing companies both large and small. I have been fortunate enough to talk with several different people, each with a unique perspective on specialty crop farming and processing. 
A few weeks into my internship, I spoke with A.G. Kawamura, the former Secretary of the  California Department of Food and Agriculture and a third-generation fruit and vegetable farmer. The purpose of the meeting was to learn about the logistics of specialty crop processing in California, but I was also able to gain a better understanding of the complexity of the  American specialty crop farming system in general, and of the steps that are taken to transport produce to consumers. Different crops have different processing requirements, and timing and precision are key in order to keep crops from spoiling. For example, strawberries need to be cooled as soon as possible after being harvested, so strawberry farms need to be geographically close to a cooling facility, which is normally run by an independent company. The "cold chain"  needs to be maintained throughout the strawberries' journey to the consumer, otherwise the fruit will spoil. The food supply chain is dependent upon the reliability of each step of the process from harvest to sale. 
From A.G. I also learned about the inherent uncertainty of farming, and how farmers often do not get a fair return for their product unless they sell directly to consumers. They are constrained by natural factors like temperature and precipitation and economic factors like the demands of stores and consumers. I knew that farming involved difficult physical labor, but I now understand that it involves significant strategic thinking and planning as well. 
I now have a greater appreciation for the amount of work and precision that goes into growing,  preparing, and transporting both fresh and processed produce to support millions of people who live thousands of miles apart. I was struck by the hypothetical question that A.G. posed: "Why  
do those with the most food insecurity also get the poorest quality foods?" This observation shines light on the real opportunity that the Next California Project has to not only make food production more sustainable for years to come, but to make it more accessible to all. Most of the nutrients in fresh produce are lost by the time the produce reaches the consumer. If we can establish multiple specialty crop hubs across the country rather than just one, produce will be able to travel a shorter distance and thus lose fewer nutrients. 
I had another insightful conversation with Lanny Ashlock and Kelly Cartwright, who helped introduce the edamame soybean industry to Arkansas. Although my project does not focus on soybeans, their work provides a case study that is applicable to what can be implemented in the  Mid-Delta. They spoke of their experiences working with local farmers and contracting a  company to build a processing facility in a small town. This facility now provides about 30 full-time jobs, helping to revitalize the local economy. Supporting local economies in the poor region of the Mid-Delta is another goal of Next California, so learning about the success of  Lanny and Kelly's venture was inspiring. We can learn a lot from the precedent that they have set, and use this knowledge to implement our work in the region. 
As I continue with my internship, I am looking forward to using what I have learned so far from experts in agriculture and processing to help develop a plan for the value-added processing infrastructure of the Mid-Delta. I am also excited for the day when green beans begin to grow on my plant and I can understand a little bit more the feeling of accomplishment of a farmer during harvest. However, like the country's current agricultural system outgrowing its current locations and processing methods, my plant will soon outgrow its pot and need to be planted somewhere else.
---
Interested in a Social Impact Internship? Learn more about how to apply by clicking here!
---
Tags: Agriculture & Food, Climate, Climate Change, Social Impact Internships, Social Impact Internships Spring 2021
---