Social Impact Internships: Eric Liu ('25)
Hi! My name is Eric Liu, a student in the Class of 2025. Over IAP 2022, I was fortunate enough to work with Ek Kadam Aur (EKA or "One Step Forward" in Hindi) as an Impact Analyst Intern. My job was to use survey data from students to analyze the impact the organization's programs had on these students.
Specifically, I was working with the High School Leadership Program (HSLP) which serves to offer supplemental education in math, science, communication, and entrepreneurship to underprivileged students in isolated communities in India and Nepal. EKA recruited experts in their respective fields and provided the equipment to operate "virtual" classrooms at these schools, where students would gather after their regular school day and be taught by experts in different fields that tune in through a video-conferencing app. By providing the resources and logistical support for this program, EKA focuses on developing these local communities. In doing so, we hope to lessen the disparity between the wealthy and the underprivileged, a disparity that has been exacerbated by the worldwide pandemic.
Over the last month, I have used survey data from over 120 students about their experiences to assess the effectiveness and impact of the HSLP. Twenty survey questions, all answerable on a "Strongly Agree" to "Strongly Disagree" scale, were broken up into five categories (four questions each), and student responses were given a 1-6 rating based on how favorable they were. The average score of each category was calculated for each school and represented by a percentage out of six, the max score. The scores were compared to a control group to see how the program had impacted the responses to these questions.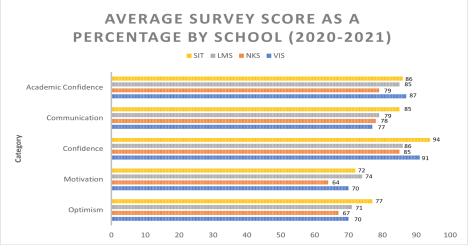 As someone from a first-generation, low-income background, my work in this project means a lot to me. It serves as a reminder that everyone in this world deserves a quality education, one that facilitates growth and is conducive to their mental development. Though not to the same extent, I am able to relate to these students in regards to underfunded schools and a lack of extracurricular programs. It is safe to say that I would not be here writing this today had I not been fortunate enough to benefit from organizations and programs like EKA and the HSLP throughout my childhood. In the same manner, the HSLP gives more opportunities to these students. Indeed, the students in the HSLP are brilliant. They all have all the potential in the world, but they just need someone to help extract that from them. 
Although this internship has been short, I have grown a lot through it. The organizational, analysis, communication, and teamwork skills I have learned through this process are truly phenomenal. Not only that but having the ability to work on something that is truly meaningful to me is extremely rewarding.
---
Tags: Education, K-12 Education, Social Impact Internships, Social Impact Internships IAP 2022, Tech for Good
---