2021 Paul Gray Faculty Award Winner: Kristin Bergmann, PhD
"Professor Bergmann's public service at both her home institution and the broader scientific community are unequivocal and unmatched. She is a champion and staunch supporter of students and student-led efforts to improve workplace culture." – Professor Bergmann's nomination letter, co-authored by a group of students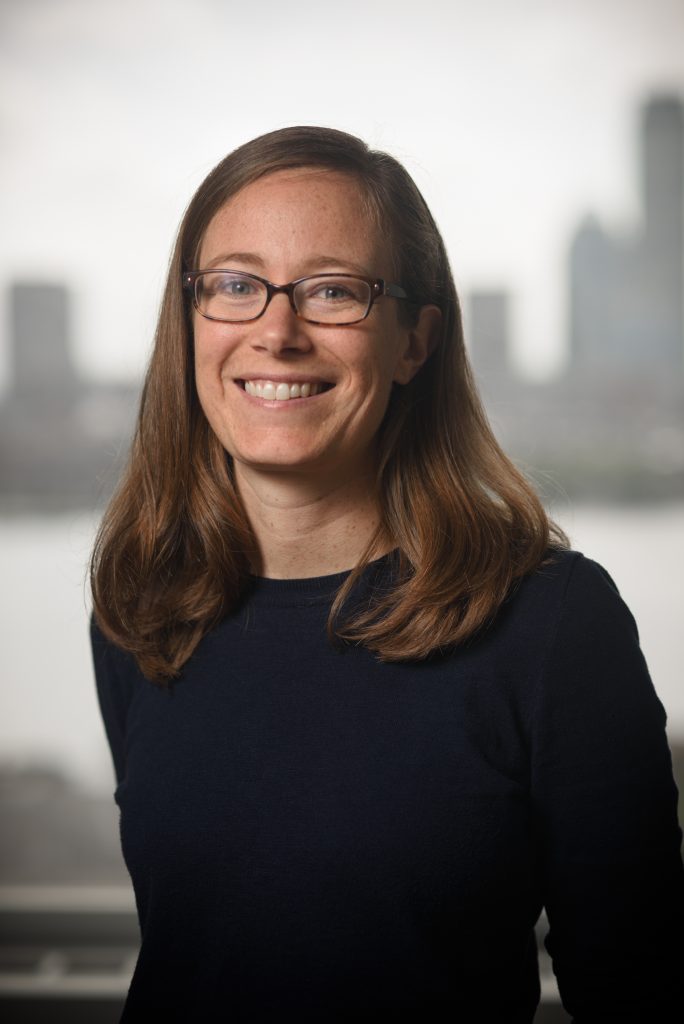 In 2021, Earth, Atmospheric and Planetary Sciences (EAPS) Professor Kristin Bergmann was awarded the Paul Gray Faculty Award for Public Service, which is named in honor of MIT's 14th president and aims to recognize "a member of the MIT faculty who exemplifies building 'a better world' through their teaching, research, advising, and service." In addition to this faculty award, the Priscilla King Gray Awards recognize a graduate and undergraduate student for their public service.
The PKG Center had the pleasure of interviewing Professor Bergmann to learn more about her career in geoscience and how she has centered it around public service and social impact. Kristin shared that public service was always a part of her journey, even in her high school and college years when she was an environmental activist. When she started graduate school, Kristin was well aware of her own positionality as a woman in STEM, especially in her role as a junior faculty member. Noticing that she was one of few women in the department, she saw it as an opportunity to offer mentorship and support to students, "it just really felt like there was a big role that I could play in this undergrad and graduate student and postdoc life in our department. And I've really enjoyed that over the years because it has allowed me to interact with such amazing students and scientists, and help them achieve their dreams and even figure out what their dreams are."
Kristin's current MIT students have experienced this same intentionality and care for nurturing the learning community, especially around ensuring that those of underrepresented identities feel that they belong and are valued in the scientific community. Her nomination, co-written by a group of her students, states, "In our observation, Professor Bergmann has been one of the only faculty members to commit time, labor, and resources to combating racism, bias, and other forms of discrimination within our discipline and STEM at large. She was the only faculty member who volunteered to serve on the Board of the EAPS Department's first women's advocacy and support group. She has also served for multiple years on numerous committees that improve the experiences of students in the department, including the department's Diversity Council."
She has also been a mentor to other women entering STEM and advocate for removing barriers and making structural changes to ensure the field is more accessible and welcoming to women. Julia Wilcots, an EAPS graduate student, shared that "Professor Bergmann's initiative, problem-solving skills, and empathy for the struggles of women graduate students in particular, have inspired me and others in the department to not only push for this change, but also to closely examine other inequities within our department…Her commitment to service has inspired me and many other students in EAPS."
In an effort to further break down barriers to accessing an earth science education, Kristin and one of her postdocs turned to edX and created "The History of Ancient Environments, Climate, and Life," an online course available for free to all learners. She shared that, "the first time we taught it, it was so exciting, to see the map of where all the learners are, to see the questions people asked, and we had them describe something that was really important to them in their local geology and it was just amazing to see what they brought to the course."
Overall, Kristin believes that to be a good earth scientist, you must grapple with issues of equity. It's not an extracurricular activity, it is an inextricable part of the work: "To do research in the geosciences equitably really requires grounding in the past, in society and in the place, because we do so much of our work in the field." Kristin has done fieldwork all over the world, and she recognizes the importance of prioritizing an understanding of local communities. She believes that acknowledging the indigenous history and culture of a place directly intersects with the geosciences and is an integral part of any conversation about geology, especially in the classroom. For her part, she has revamped her classes to include this as a critical component of the curriculum because, as she puts it "I want to see geoscientists really engage with justice today (…) it's not enough to just have our research efforts and be divorced from the inequities that exist." Not only that, but geoscientists can directly contribute to addressing these inequities. As she explains, "we study floodplains, we study the substrate that all of our housing disparities sit on," and insights from research in these areas could make a difference in how we approach these challenges.
Over her nearly seven years in EAPS, Kristin has started or made significant contributions to a considerable number of initiatives focused on equity within the department. While reflecting on this work, she notes that "there have been some really wonderful things to come out of our efforts. Some of them have been challenging to look at, you know, survey data that highlighted disparities in experience, disparities in the sense of belonging, and even how isolated students felt. But yet, I feel much better for having done that work." Demonstrating the importance of evaluating and moving through the uncomfortable and unpleasant realities as it can result in positive change that advances equity in STEM.
Outside of her role at MIT, Kristin dedicates her time to additional earth science public service projects. One is a geology excursion she leads to Nahant, MA with an all-girls middle and high school because she recognizes the importance of young students gaining tangible, hands-on experiences with science. Another is the Society for Sedimentary Geology (SEPM), which she first joined as a graduate student organizing conferences before serving as the Early Career Officer. Much of her work in this role has revolved around transforming the organization into a welcoming, respectful place and making it a leader in this area among scientific societies. She shares, "I got involved in this effort that was led by an amazing group of researchers and we worked together to look at diversity within the society over time, diversity in the leadership, diversity in the awards that the society gave." And from these observations, Kristin and her colleagues have made recommendations that would move SEPM forward in a way that would allow, in her words, "anyone from a diverse background to be nurtured to succeed and to be recognized for their successes." 
Kristin also shared advice for students, faculty, and the Institute as a whole regarding how to incorporate and encourage equity and public service within STEM education and careers. She encourages all students to take part in these efforts as she recognizes "how important it is, especially for students who are minorities in STEM and underrepresented to feel like they have power to change the system and to be activists and to serve to make the space feel like it fits them better." The way she sees it, her role as a faculty member is to support and help students along the way as, she says, "thinking about the impact that they'll have in their lifetimes is an amazing way to think about what role I have in all of this, because every future generation can do even more good. And so I really do think that the student efforts are so critical and so important, and so worth nurturing."
In addition to encouraging students to pursue this work, Kristin advises her fellow faculty members who might be unsure of where to start, that it helped her to "focus my energies on the areas where I felt most needed, that were most rewarding to me, and where I felt like I had the biggest contribution to make." Therefore, she focused her efforts where she could interface most with students in her teaching and outreach, and her work with graduate, undergraduate, and postdoc communities. She added, "I think that [for] anyone who's excited about these public service opportunities, I would suggest they think about where their passions are and channel their energies there."
Finally, Kristin explained why it is essential for departments and the Institute as a whole to support and encourage students and faculty members to pursue public service: "I think it's really important that people feel like they can bring their whole selves to science and to their jobs. I want to bring my whole self, this love of environment, this love of justice, this love of trying to do better for the next generations to help the next generations make waves. I want to be able to bring that and so I think that that's so critical that I really want STEM to expand to accommodate that, in what science is and what science is appreciated to be."
---
If you know a faculty member or a student who is 'making a better world' through their work in public service, nominate them for the 2022 Paul Gray and Priscilla King Gray Awards by March 18!
---
Tags: Anti-Racism, Paul Gray Award, Public Service, Social Justice
---