IDEAS Alumni: OnePower featured in MIT News!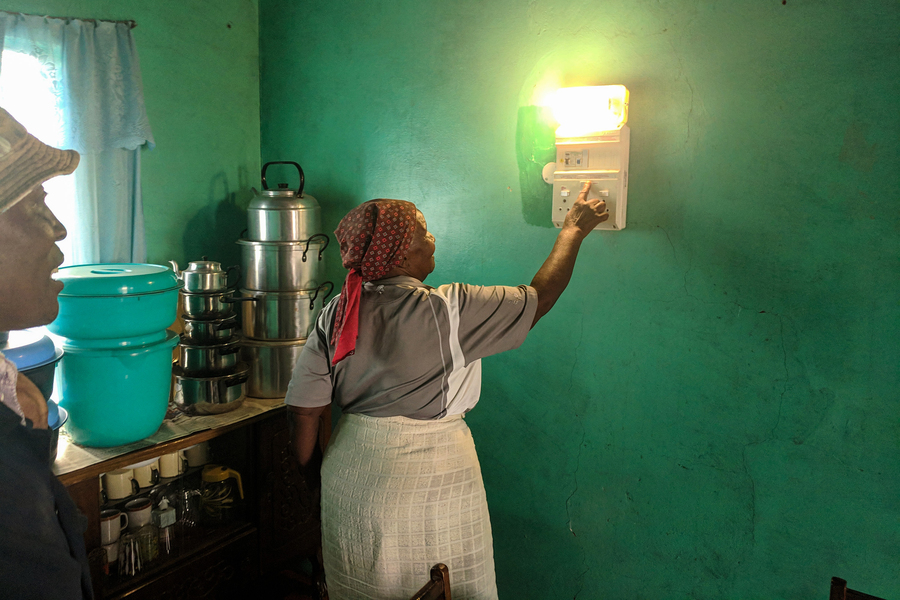 Matt Orosz's mission for the last 20 years can be explained with a single picture: a satellite image of the world at night, with major cities blazing with light and large swaths of land shrouded in darkness.
The image reminds Orosz SM '03, SM '06, PhD '12 of what he's trying to change. Orosz is the CEO of OnePower, an MIT spinout building networks of minigrids powered by solar energy to bring electricity to rural regions of Lesotho.
There are other companies building minigrids in Africa, but OnePower is the only one to have accomplished the feat in Lesotho, and it's not hard to understand why. Known as the kingdom in the sky, Lesotho is a small, developing country crossed by mountain ranges and rivers, making it difficult to get electricity to rural regions. Recent estimates suggest that less than half of all households have electricity.
OnePower's first minigrid is a small system that has been serving around 200 customers for more than a year. The operation is part of an eight-minigrid project that will provide reliable electricity for the first time to more than 30,000 people, 13 health clinics, 25 schools, and over 100 small businesses.
Construction on those sites is underway, and Orosz is currently working on a power transmission and road crossing over the Senqu river, the largest in southern Africa. During the project, the operators of a health clinic on the off-grid side of the river let Orosz stay there on the condition that he fix their diesel generator. He got the generator working again, but if everything goes according to plan, the clinic won't need it for much longer.
"If you don't have power, then you don't have lights, you don't have computers, you don't have communications," Orosz says. "That means hospitals can't refer patients or get expert opinions or run equipment, and schools can't get internet. When the fundamental institutions for health and education don't have power, their effectiveness is pretty limited, which affects quality of life for everybody that lives in the area."
Finding a spark
The health clinic Orosz is staying in isn't far from where he first learned about energy access problems in rural Africa. Between 2000 and 2002, Orosz lived in Lesotho, without electricity, as a member of the Peace Corps. The experience inspired him to help, but without an engineering background, he knew he'd need to gain more skills first.
"I applied to MIT so that I could gain some knowledge and experience and apply it in this setting," Orosz says, noting he spent a lot longer at MIT than he initially intended.
Orosz first joined the research lab of Harry Hemond, the William E Leonhard Professor of Civil and Environmental Engineering, learning about topics like physics and fluid mechanics as part of his first year at MIT. After that, he enrolled in another master's program in technology and policy. In 2007, he began a PhD at MIT studying solar thermal and photovoltaic hybrid power generation.
The education wasn't the only reason Orosz stayed at MIT. Throughout his time on campus, he also took advantage of funding opportunities presented by the IDEAS Social Innovation Challenge and the MIT $100K Entrepreneurship Competition (the $50K at the time). Orosz was also awarded a Fulbright scholarship while at MIT, and was selected for grants from the World Bank and the Environmental Protection Agency.
Orosz also aligned himself closely with MIT D-Lab. During his second master's, he led trips to Lesotho with other D-Lab students. Between his master's and his PhD, Orosz spent a year living in Lesotho exploring energy solutions with three other MIT students, including Amy Mueller '02, SM '03, PhD '12, who is currently chief financial officer of OnePower and is also an assistant professor at Northeastern University.
In 2015, Orosz moved to Lesotho to work on OnePower full-time. The move coincided with OnePower's successful bid to develop the first utility-scale solar project in Lesotho, a 20-megawatt project that will sell electricity to Lesotho's central grid in addition to OnePower's minigrid work. OnePower expects that project, named Neo 1, to start delivering power to Lesotho's central electric grid next year.
"It takes quite a lot of time and money to develop utility scale solar projects, but we've been told by investors and partners that seven years is not unusual," Orosz says. "It kind of reminds me of the time it took to get a PhD — surprisingly long, but corroborated by others' experiences."
In conjunction with the grid-scale project, OnePower also piloted the first privately financed, fully licensed minigrid in Lesotho. The company has also set up minigrids to help power six health care centers in the mountains of Lesotho.
Read the full article on MIT News!
---
Tags: Climate, Climate Change, IDEAS, IDEAS Alumni Profiles, PKG Alumni
---