Social Impact Internships: Keaten Clarno ('23)
Hello! My name is Keaten Clarno, and I am a rising senior at MIT (woah!). I started out wanting to pursue Astrophysics, but I am now majoring in Philosophy (Course 24) with a minor in Astronomy; my love for space always sticks around! 
This summer, I had the pleasure of interning with the Ek Kadam Aur Foundation (EKAF) through the MIT PKG Center. For the most part, I worked alongside another MIT student with the Foundation as a Corporate Social Responsibility (CSR) Intern, and the experience has been extraordinary. As a first-generation, low income college student at MIT who heads the organization – FLI@MIT – for similarly disadvantaged students, I have always desired to uplift those around me who are disadvantaged, marginzalized, or otherwise limited by societal constraints. Thus, working on a social impact project this summer with EKAF has been a dream come true. EKAF's primary mission is to transform the lives of underprivileged children through education, technology, and healthcare initiatives; we believe that all children deserve equal access to resources to develop their true potential and leadership abilities.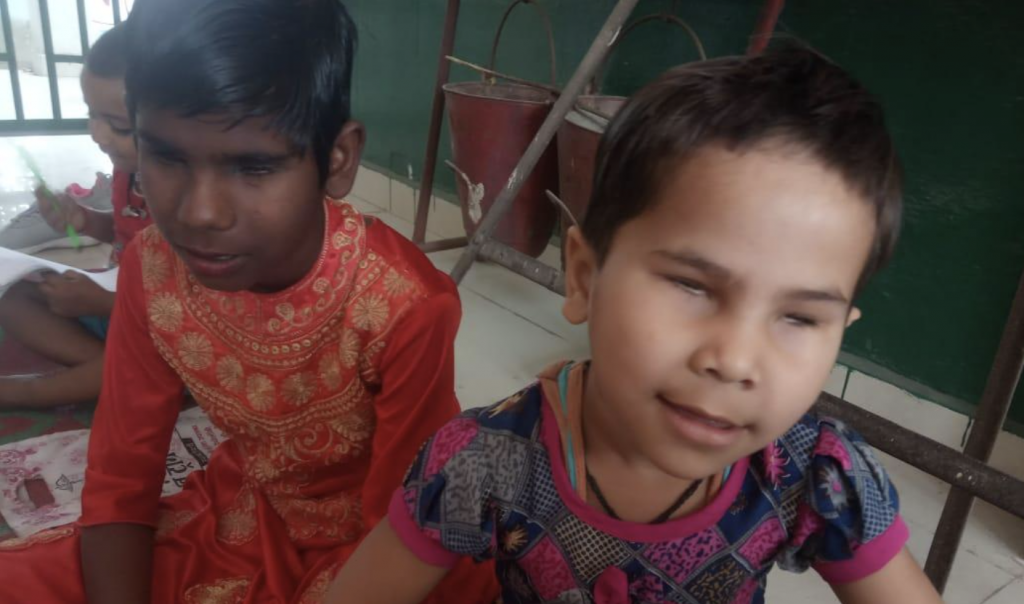 To further this mission, I worked on uplifting a specific group of children: blind children in India who are from rural, low income communities. India has one of the largest populations of blind children, and almost none have access to education. I was inspired this summer when working to mitigate this issue by creating fundraising campaigns for, promoting, and disseminating one of EKAF's new programs: the Train the Trainers for Blind Program. This program trains local high school students that will then mentor blind children in Hindi, English, numbers, Braille, and more in order to prepare them for a real, formal education! It is rather new, but it has been booming this summer! What really made the work inspiring, easy to do, and enjoyable was seeing the actual children who I would be supporting by working on this program (seen in the images to the right).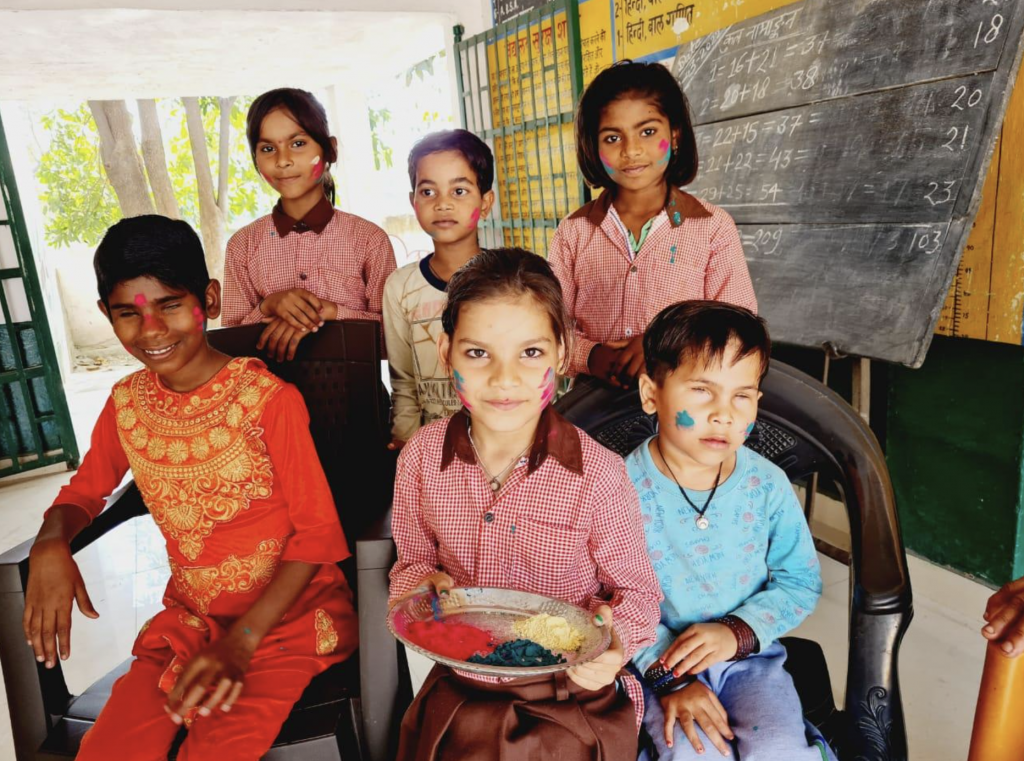 After producing videos, flyers, and sending many emails, my co-intern and I set up a pretty solid fundraising campaign for the Train the Trainers for Blind Program, and it is not even finished yet! Hopefully we can keep garnering support and donations for the blind children of India because they deserve equal access to education, healthcare, and society just like everyone else. A flyer that I created and circulated can be found below and to the left; we are still accepting donations, so do not hesitate to check out the webpage and program on EKAF's website!
At the time I am writing this, we have already raised over 1,000 US Dollars for this program and, therefore, for the blind children in India get a formal education. This is already enough money to support more than one blind child ALL the way through the program and 6 months into their formal education! If that is not inspiring and motivating, then I do not know what is.
Not only was I inspired by seeing the resources that I could gather for these blind children in India; I was also inspired by working alongside my coworkers and actually speaking to some of the students in EKAF's programs. Seeing the dedication, compassion, and commitment my coworkers and co-interns had for social impact work was phenomenal, and I truly hope that I can continue doing something similar as a lifelong career.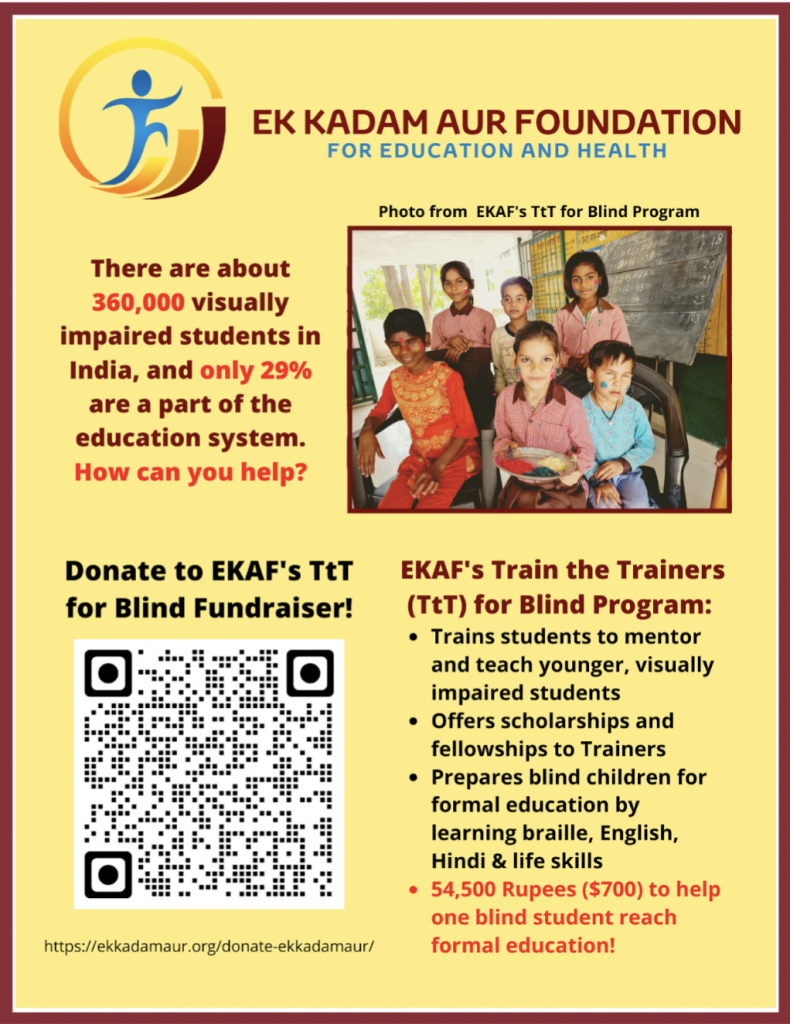 After this summer's internship with the Ek Kadam Aur Foundation, I know that I want to help underprivileged communities surrounding me as much as I possibly can for the rest of my life. Whether that be by simply volunteering with various initiatives, starting my own non-profit to push for equity within our society, or working for a non-profit that works to promote equal education, healthcare, or environmental concerns, I know that helping others is something that I need in my life. There is not much else that brings me more fulfillment, motivation, or inspiration to continue living my life, and I am thankful for my time with EKAF for solidifying that idea and plan within my mind.
A big thank you to Dr. Satish Tripathi for founding EKAF, my supervisor Muskan Madhok for being so amazing, supportive, and fun to work with, and, of course, my fellow co-interns Emmi Mills, Sheng Huang, and Samir Amin! 
---
---
Tags: Health, Health & Medicine, Social Impact Internships, Social Impact Internships 2022
---