Three PKG Students awarded 2023 Fulbright Fellowships!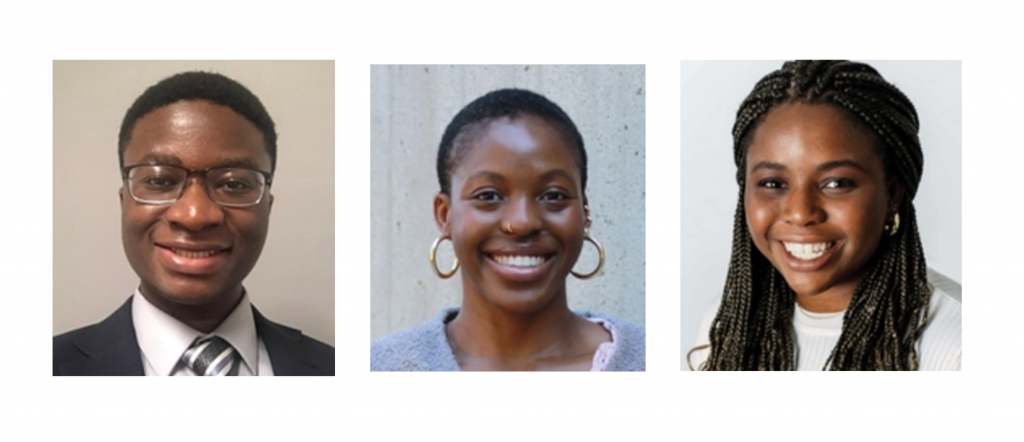 Thirteen MIT undergraduates, graduate students, and alumni have been awarded Fulbright fellowships and will embark on projects overseas in the 2023-24 grant year. Four other MIT affiliates were offered awards but declined them to pursue other opportunities.
Sponsored by the U.S. Department of State, the Fulbright U.S. Student Program offers American citizen students and recent alumni year-long grants for independent research, graduate study, and English teaching in over 140 countries.
For the past four years, MIT has been a Fulbright Top-Producing Institution. MIT students and alumni interested in applying should contact Julia Mongo in Distinguished Fellowships in Career Advising and Professional Development.
Victor Damptey will graduate in June with a major in biological engineering and a minor in Spanish. At the Chemical Institute of Sarrià in Barcelona, Spain, Damptey will test alternative conduits for cardiovascular grafting surgery. He gained a passion for conducting impactful research at the Hammond Lab, where he helped develop a drug delivery system for osteoarthritis. Damptey has cultivated his interest in applying his Spanish fluency to alleviate real-world problems by serving as an English-as-a-second-language tutor and leading a medical interpreting initiative within ActLingual. He plans to continue utilizing his Spanish skills to effectively engage with local communities in Spain and reinforce his cultural awareness. After his Fulbright year, Damptey will continue his studies in medical school while combining research and public service.
Victor participated in our spring break and COPE Navajo Nation programs.
Jola Idowu will graduate this spring from the Master of Architecture and Master of City Planning programs at MIT. Her thesis is on the historical preservation of tabby concrete, a global material whose presence in the United States was made possible by the labor of enslaved Blacks and Indigenous peoples along the Eastern Gulf of the United States. For her Fulbright grant, Idowu will research implementation methods of coastal resilience across complicated networks of stakeholders Senegal, focusing on Gorée and the greater Dakar area. She hopes that this work will contribute to centering Black Atlantic narratives within discourses on climate change. As a Nigerian-American, she is excited to explore other parts of West Africa. She will be hosted by the Department of Urban Planning at Cheikh Anta Diop University in Dakar. After Fulbright, Idowu hopes to pursue her licensure in architecture.
Jola participated in the 2020 MIT architectural cohort Group Project, that was supported through PKG funding. The Group Project used postcard to navigate community collaboration through COVID-19. Learn more about the Project here!
Mercy Oladipo will graduate this spring with a BS in computer science and molecular biology. Having always had a passion for health equity and technology, she will continue this work through her Fulbright research in São Paulo, Brazil, with support from the University of São Paulo. In Brazil, Oladipo will use the lens of reproductive justice to investigate disparities in obstetric care experiences and outcomes for Black Brazilian women and create impactful resources to improve care. Oladipo has taught STEM topics to students in Aguascalientes, Mexico, through the MIT International Science and Technology Initiatives (MISTI); conducted research at the Computer Science and Artificial Intelligence Laboratory and Tufts's MOTHER Lab; and is co-founder of Birth By Us, a health equity-focused digital platform that has been supported by MIT's Experimental Study Group, the PKG Center, MIT Sandbox, and more
Mercy participated in PKG IAP:Health, was a PKG Fellow, and was awarded a grant for their app Birth By Us at IDEAS 2022. Read more about Mercy's PKG IAP:Health internship here. Read more about Mercy's PKG Fellowship experience here. Read more about Mercy's IDEAS 2022 grant and project here.
---
Tags: Health, Health & Medicine, IDEAS, PKG Alumni, PKG Fellowships, Tech for Good
---