PKG Fellowship Community Partner, TestBeds, and PKG Fellow, Gabriel Castro-Andrade featured in Arts in MIT Newsletter!
Written by Naveen Kumar
Editorial direction by Leah Talatinian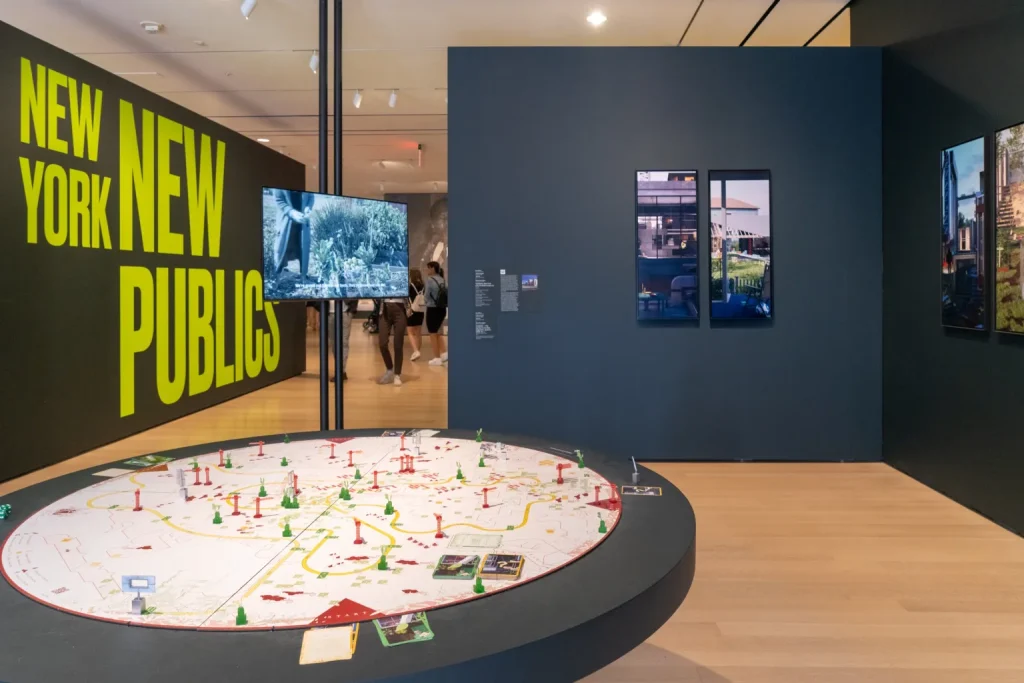 Jaffer Kolb and his collaborators are working to turn architectural waste into shared community infrastructure
When Jaffer Kolb, a lecturer in the Department of Architecture at MIT, refers to himself and his collaborators as "garbage people," he's talking about the materials they repurposed into an innovative public works project. Testbeds, currently featured in the exhibition Architecture Now: New York, New Publics at the Museum of Modern Art (MoMA), suggests turning refuse from luxury developments into functional structures for community gardens.
The idea came after Kolb and Ivi Diamantopoulou, co-founders of the Manhattan-based design studio New Affiliates, and Samuel Stewart-Halevy, a doctoral student in architectural history at Columbia University, recognized a huge wasted resource in their industry: partial mock-ups built to scale, to test aesthetics and performance, then discarded as trash. Fabricated from the actual materials for new buildings, mock-ups generally represent one to three stories of the exterior and can cost hundreds of thousands of dollars to construct. Once they're tested for durability—pummeled with air, water, and even baseball bats—the prototypes are cast off by developers.
Kolb, Diamantopoulou, and Stewart-Halevy were walking around New York City in 2018, thinking there must be some way to utilize these discarded fragments, when they noticed an interesting parallel. "We realized that they have a curious resonance in scale with community garden structures," Kolb says of the genesis of Testbeds, which proposes turning discarded mock-ups into multi-use sheds and shelters in neighborhood gardens.
The collaborators decided to approach the New York City Parks Department. Together, they identified a garden in the Edgemere neighborhood of Queens, on the Rockaway Peninsula, as a possible test case for a community garden in need of a structure.
"We worked with the gardeners on transporting a mock-up there, and figuring out what kind of structure they would want," Kolb says. The edifice fragment came from a luxury condo, developed by Cape Advisors, on Warren Street in Tribeca. The garden was in need of shade and work stations, so the mock-up was ultimately positioned on its side and outfitted as a functional shelter.
"If you look at a map of where high-end developments  are concentrated that typically produce these mockups, it's an inverse map to where community gardens are located," Kolb says. Part of the project's mission is to bridge that gap, both symbolically and in practice. "We're using these mock-ups as ambassadors to connect these two parts of the city, taking something that's floating in the sky down to the ground," Kolb says.
Imagining future iterations
On the heels of their pilot project in the Edgemere garden, the Testbeds team was invited to be part of Architecture Now: New York, New Publics, the first in a MoMA exhibition series that will highlight groundbreaking work in the field. On view through July 29, the series' inaugural exhibit features 12 projects that, much like Testbeds, seek to connect urban architecture with its surrounding communities.
Kolb, who began lecturing in the department of Architecture at MIT in the fall of 2022, applied for a Fay Chandler Creativity Grant from the MIT Center for Art, Science & Technology (CAST) to help fund Testbeds' participation in the exhibit, which includes renderings of the Edgemere garden and three proposed future iterations of the project. Presented as a series of diptychs, the images in the exhibit show before illustrations of the mock-ups, as essentially construction debris, and their imagined integration into shared community spaces. "We're trying to use these renderings to demonstrate the flexibility of the approach," Kolb says.
A large, circular board game set up on a nearby table seeks to give viewers a sense of the development and construction process in Edgemere, which took four years and was full of logistical challenges. Kolb likens the game, which shows a concentration of urban development toward the center of the map and community gardens near the outskirts, to a combination of Risk and Chutes and Ladders.
Though museumgoers are advised not to touch the game, cards that potential players would draw feature actual breakthroughs and setbacks the Testbeds team experienced—like when a fabricator who was storing the Warren Street mock-up asked for nearly $10,000 in additional funds to surrender the piece back to the design team, setting the project back six months.
"The goal was to take the negotiation that you have to engage in with public works and obviously make it fun, but also communicate that there's strategy involved," Kolb says of the game.
From concept to practice
The idea for Testbeds came from practical experience in the field, but the theories it puts into practice are also at the heart of Kolb's academic interests. The course he teaches at MIT, Gay for Pay: Designing Architecture for Queer Economies, explores questions about redirecting resources conventionally derived from capitalist interests toward civic use.
"What if I can invent an institution that uses financial systems in order to undo the possibilities of architecture away from servicing capital to addressing public needs?" Kolb asks.
An MIT student inspired by Kolb's seminar is helping the Testbeds team to answer that question. Gabriel Castro-Andrade, a master's candidate in architecture, is researching how to develop a nonprofit that could support and streamline future Testbeds projects. With funding from a PKG fellowship, Castro-Andrade is looking into logistics like how to draft a mission statement and recruit a board.
"We want to create an institutional framework that we can use to generate these projects faster, cheaper, and more easily," Kolb says. Streamlining Testbeds into an operational nonprofit would allow Kolb and his collaborators to fulfill what he considers its mission: "Let's take a symbol of ultra wealth and turn it into a public symbol."
---
Tags: PKG Fellowships
---