PKG Fellow Awele Uwagwu ('21) featured in MIT News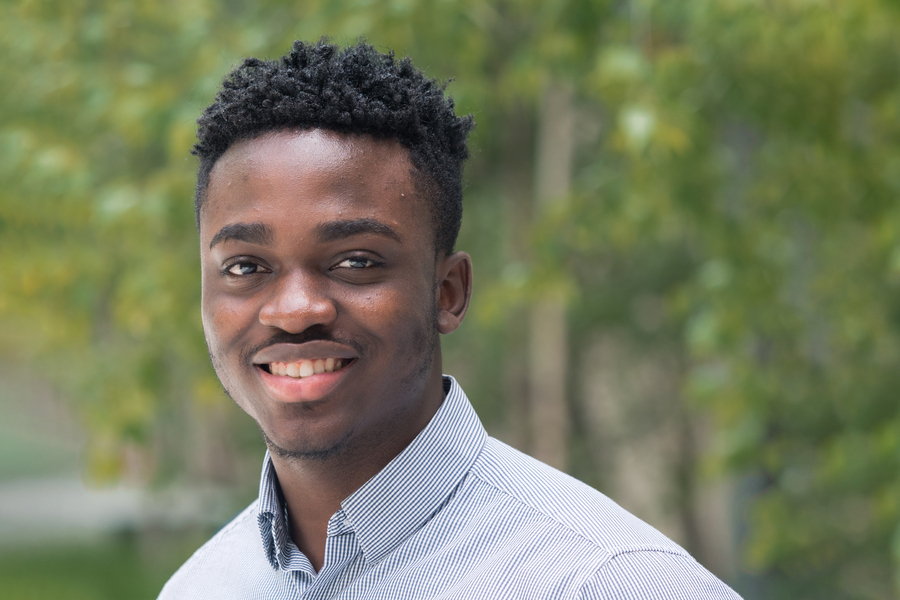 Growing up, Awele Uwagwu's view of energy was deeply influenced by the oil and gas industry. He was born and raised in Port Harcourt, a city on the southern coast of Nigeria, and his hometown shaped his initial interest in understanding the role of energy in our lives.
"I basically grew up in a city colored by oil and gas," says Uwagwu. "Many of the jobs in that area are in the oil sector, and I saw a lot of large companies coming in and creating new buildings and infrastructure. That very much tailored my interest in the energy sector. I kept thinking: What is all of this stuff going on, and what are all these big machines that I see every day? The more sinister side of it was: Why is the water bad? Why is the air bad? And, what can I do about it?"
Uwagwu has shaped much of his educational and professional journey around answering that question: "What can I do about it?" He is now a senior at MIT, majoring in chemical engineering with a minor in energy studies.
After attending high school in Nigeria's capital city, Abuja, Uwagwu decided to pursue a degree in chemical engineering and briefly attended the University of Illinois at Urbana-Champaign in 2016. Unfortunately, the impacts of a global crash in oil prices made the situation difficult back in Nigeria, so he returned home and found employment at an oil services company working on a water purification process.
It was during this time that he decided to apply to MIT. "I wanted to go to a really great place," he says, "and I wanted to take my chances." After only a few months of working at his new job, he was accepted to MIT.
"At this point in my life I had a much clearer picture of what I wanted to do. I knew I wanted to be in the energy sector and make some sort of impact. But I didn't quite know how I was going to do that," he says.
With this in mind, Uwagwu met with Rachel Shulman, the undergraduate academic coordinator at the MIT Energy Initiative, to learn about the different ways that MIT is engaged in energy. He eventually decided to become an energy studies minor and concentrate in energy engineering studies through the 10-ENG: Energy program in the Department of Chemical Engineering. Additionally, he participated in the Undergraduate Research Opportunities Program (UROP) in the lab of William H. Green, the Hoyt C. Hottel Professor in Chemical Engineering, focusing on understanding the different reaction pathways for the production of soot from the combustion of carbon.
After this engaging experience, he reconnected with Shulman to get involved with another UROP, this time with a strong focus in renewable energy. She pointed him toward Ian Mathews — a postdoc in the Photovoltaic Research Laboratory and founder of Sensai Analytics — to discuss ways he could make a beneficial impact on the energy industry in Nigeria. This conversation led to a second UROP, under the supervision of Mathews. In that project, Uwagwu worked to figure out how cost-effective solar energy would be in Nigeria compared to petrol-powered generators, which are commonly used to supplement the unreliable national grid.
"The idea we had is that these generators are really, really bad for the environment, whereas solar is cheap and better for the environment," Uwagwu says. "But we needed to know if solar is actually affordable." After setting up a software model and connecting with Leke Oyefeso, a friend back home, to get data on generators, they concluded that solar was cost-comparable and often cheaper than the generators.
To continue reading this article on MIT News click here. Awele's work with solar energy in Nigeria has been funded through his IAP '21 and current PKG Summer Fellowship, which you can read more about here!
---
Tags: Fellowships IAP 2021, Fellowships Summer 2021, PKG Fellowships
---