Bhav Jain, PKG Social Impact Intern and IDEAS alum, named 2022 Truman Scholar!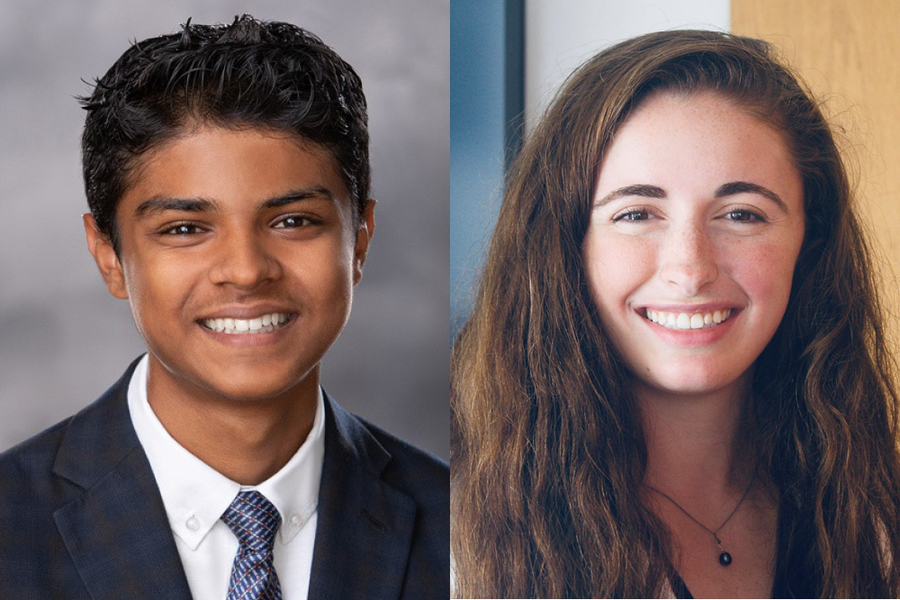 MIT students Bhav Jain and Liberty Ladd have been selected as 2022 Truman Scholars. Truman Scholars demonstrate outstanding leadership potential, a commitment to a career in government or the nonprofit sector, and academic excellence.
Jain and Ladd join 56 other scholars who were selected from 705 candidates nominated by 275 colleges and universities. President L. Rafael Reif delivered the news personally to both students.
Established by Congress in 1975 as a living memorial to President Harry S. Truman and a national monument to public service, the Truman Scholarship carries the legacy of our 33rd president by supporting and inspiring the next generation of public service leaders. For more than 40 years, the Truman Foundation has fulfilled that mission — inspiring and supporting Americans from diverse backgrounds to public service. Truman Scholars receive up to $30,000 toward graduate studies in the United States, as well as access to development programs such as the Truman Scholars Leadership Week, the Summer Institute, and other Truman Fellows events.
…
Jain, who hails from Pennsylvania, plans to pursue a career at the intersection of medicine and policy, transforming health care delivery to reduce barriers to care for marginalized populations. He is majoring in computation and cognition, and has participated in scientific research at Massachusetts General Hospital (MGH), using computational techniques to investigate neural circuits related to PTSD, OCD, and MDD.
Jain began public health work the summer after his first year at MIT, working as a community health intern at the Cambridge Health Alliance. He analyzed population health costs for Medicaid, as well as local immigrant population needs in response to Covid-19. Simultaneously, Jain became a founding member of Compass, a student-developed Covid-19 triaging text line that connects underserved populations with nearby testing locations. They have since pivoted to focusing on issues of patient intake, scheduling, and follow-up through automated systems, with support from The Legatum Center for Development and Entrepreneurship at MIT.
Starting in March of 2021, Jain began research at Harvard Medical School/Memorial Sloan Kettering Cancer Center with physicians and policymakers, including Paul Nguyen, Fatima Cody Stanford, Fumiko Chino, Sandeep Palakodeti, and Edward Christopher Dee. He examined disparities in oncology outcomes, health care management, and public health, ultimately publishing these findings. Jain further had an opportunity to explore public health through government service this past summer. He served as a policy fellow for the Department of Health and Human Services, designing interventions to address healthcare disparities exacerbated by Covid-19 and creating an open health data policy. This work has allowed him to explore public health through academic research, non-profit advocacy, the healthcare system, and government.
Read the full article about both Jain and Ladd on MIT News!
To read more about Bhav's start in the public health world, check out his PKG blogposts about his Social Impact Internship with Cambridge Health Alliance and the work he did with their Immigrant Health Equity team during the height of the COVID-19 pandemic. You can also learn more about his IDEAS Social Innovation Challenge project, Compass, which won a "crowd favorite" award in 2021!
Bhav also spoke in more detail about both of these experiences during the "One Community Together in Service" event at the 2021 MIT Alumni Leadership Conference. Click here to watch the event recording where Bhav and other PKG students share about their experience applying their MIT skills to public service projects addressing social and environmental challenges.
---
Tags: Health, IDEAS, IDEAS Alumni Profiles, PKG Alumni, Social Impact Internships, Tech for Good
---